Days after the pedestrian bridge at Miami's Florida International University collapsed on Thursday, crushing several vehicles on the road below and killing six people, Governor Rick Scott ordered the state's transportation department to pause payments for the project until the cause of the incident is uncovered.
The news comes as officials investigate what went wrong with the new bridge, and after it was revealed that an engineering firm hired by the school had left a voicemail earlier in the week warning the Florida Department of Transportation (FDOT) of cracking on the north side of the bridge—a message that was not heard until the morning after the collapse.
"From a safety perspective we don't see that there's any issue there, so we're not concerned about it from that perspective," Denney Pate, with FIGG bridge engineers, said in the voicemail, which FDOT released to the public, "although obviously the cracking is not good and something's going to have to be, ya know, done to repair that."
FIGG designed the pedestrian walkway, which was a connection between the FIU campus and the city of Sweetwater, while contractor MCM built and installed it. The transportation department was involved from a logistical standpoint, dispensing federal funding for the project and giving the parties permission to construct the bridge over a state road.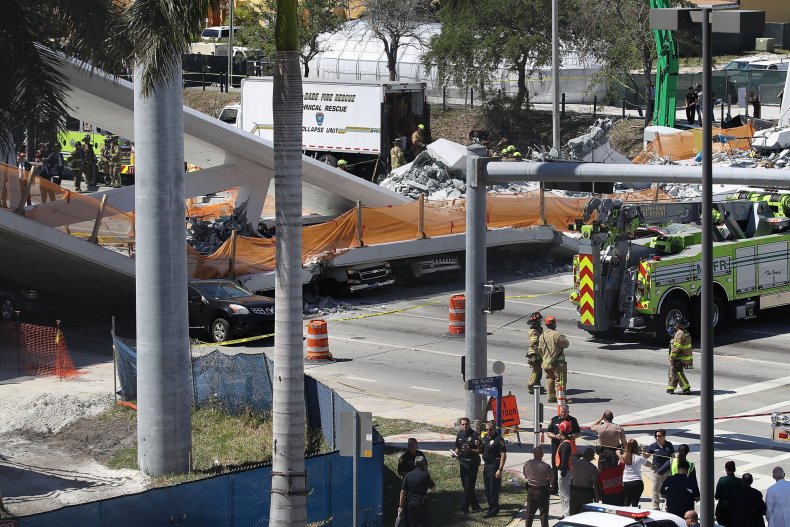 The workers put up the bridge using an accelerated process that called for building the main portion of the span off-site and then installing it in one go to reduce the amount of time traffic would be snarled around the bridge site.
When it released the voicemail audio and transcript, FDOT appeared to put the blame on the university and the engineers.
"The responsibility to identify and address life-safety issues and properly communicate them is the sole responsibility of the FIU design build team," the department statement said. "FIGG and the FIU design build team never alerted FDOT of any life-safety issue regarding the FIU pedestrian bridge prior to collapse."
The National Transportation Safety Board and other state and local officials are investigating the collapse.
In a statement on Monday, Scott announced that he was "directing FDOT to suspend all future payments of the more than $13.6 million in federal funding originally allocated for this project. Before another dollar is spent on this bridge, we must know exactly what happened."
The project also received some state and local funding, although federal dollars accounted for the large majority of the support. FDOT is responsible for passing on federal funding to FIU for the bridge.