Florida Burmese Pythons Have Decimated Their Prey and Looking for More
Florida Burmese pythons have decimated their prey and are expanding out of the Everglades.
The invasive species is primarily found in the Everglades National Park and other southern Florida ecosystems. But a new study from the U.S. Geological Survey reported that the species is expanding out of these habitats and may be on the move north, with some detected as far as Lake Okeechobee.
Michael Kirkland, study co-author and senior invasive animal biologist for the South Florida Water Management District, told Newsweek: "As Burmese pythons continue to decimate their prey base in our southernmost natural areas of Florida, and as their population increases, we can reasonably expect that they will gradually expand into neighboring natural habitats."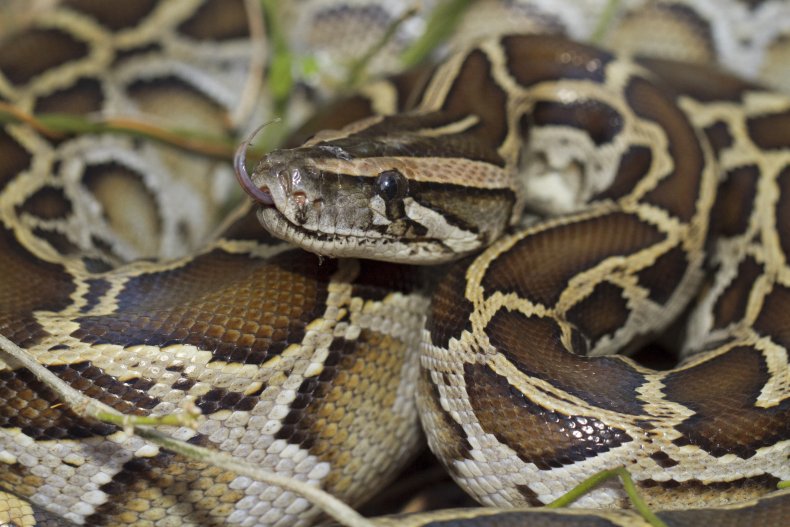 Burmese pythons are an invasive species in Florida. The species is native to Asia, and was most likely introduced to Florida through the exotic pet trade in the 1970s. Since then they have thrived in the state's subtropical climate and the population is booming, causing serious threats to the environment as they continue to feast on native wildlife.
Despite some being detected north of Lake Okeechobee, it is expected that most snakes will stay south of Palm Beach.
"Pythons are resilient animals with great ability to adapt to their environment, but it's unclear just how far north they will be able to spread if left unchecked," Kirkland said. "Currently, suitable habitat and climate doesn't seem to exist north of Lake Okeechobee for pythons, and the data clearly shows that they still heavily favor natural areas to urban development."
Kirkland said that the South Florida Water Management District and partners are trying to "hold the line" as best they can, preventing the snakes from slithering further across the state.
"Restoring our Everglades, including creating a suitable habitat for native species without the threat of pythons and other invasive plants and animals, remains top priority."
The USGS map shows just how far the pythons have spread, with dots representing sightings or captures. Dots can be seen expanding north from the Everglades.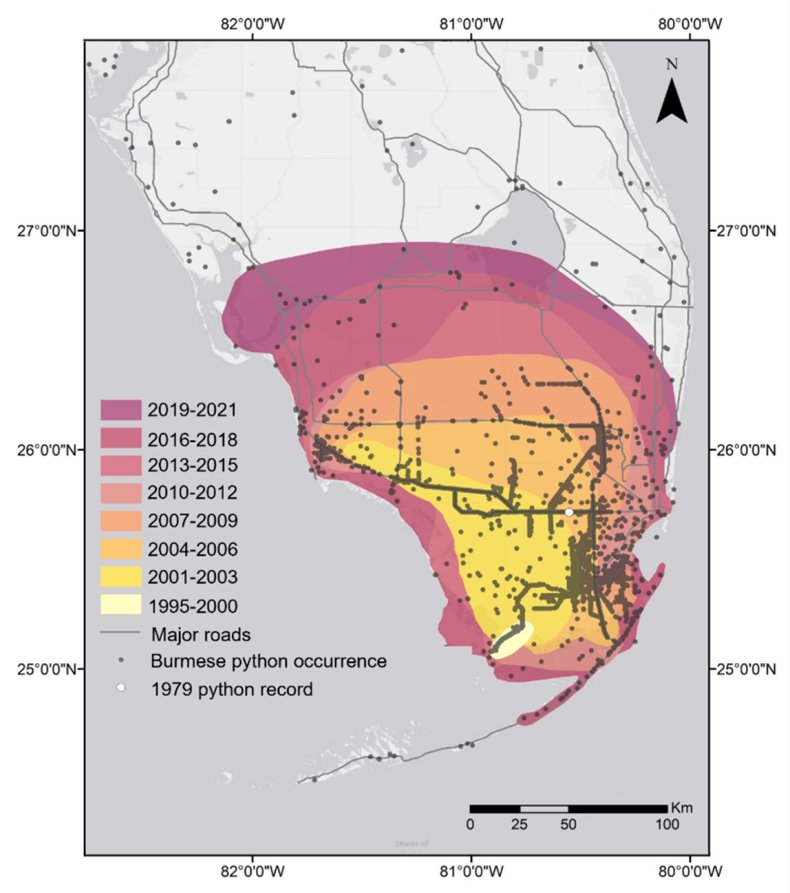 However, those sighted north of Lake Okeechobee may not be part of the same population slithering in the Everglades and the south, USGS report author Jackie Guzy, said.These individuals may be newly escaped.
Burmese pythons are a particular problem as they reproduce very quickly, meaning the population is difficult to manage.
The Florida Fish and Wildlife Conservation Commission has several initiatives in place to try and keep numbers down, but concerns remain as the populations continue to boom.
"There are significant reasons to be concerned for our native wildlife. We are seeing severe declines in fur-bearing animal populations within Everglades National Park and the surrounding natural areas expressly due to the python invasion," Kirkland said. "Now we often see wading birds in stomach content analyses. Once considered solely contained within the natural areas in Miami-Dade County, we can say positively now that the population has spread as far north as Palm Beach and Hendry Counties."
Do you have an animal or nature story to share with Newsweek? Do you have a question about Burmese pythons? Let us know via nature@newsweek.com.