Florida Called for Trump as Latinos Help Keep President's Re-election Hopes Alive
The Sunshine State's 29 electoral college votes are expected to be captured by President Donald Trump, as the Associated Press and CNN called the tight race in Florida early Wednesday morning.
Exit polling suggested that Trump's expected victory could be partly attributed to his performance this year with Latino, non-white and white female college graduate voters, which topped his 2016 performance with such demographics.
A pivotal state considered to be one of several must-wins for Trump's path to 270 electoral votes, both campaigns had their eyes on Florida in the final days before the election. Trump, Joe Biden and former President Barack Obama visited the Sunshine State in recent days as they made their final pitch to voters.
But ultimately, it is Trump who is once again predicted to clinch Florida. In 2016, Trump won the state against Democrat Hillary Clinton by just 1.2 percent—or just under 113,000 votes.
With 96 percent of the vote reported Tuesday night, Biden was at a 3.4 percent deficit, or about 380,000 votes. Trump's victory this year once again proved the polls and election forecasters wrong, both of which showed his Democratic challenger winning.
The win also breathed new fire into the president's chances at securing re-election, which largely hinges on his ability to capture several swing states, including Florida, North Carolina, Pennsylvania, Ohio, Michigan and Wisconsin.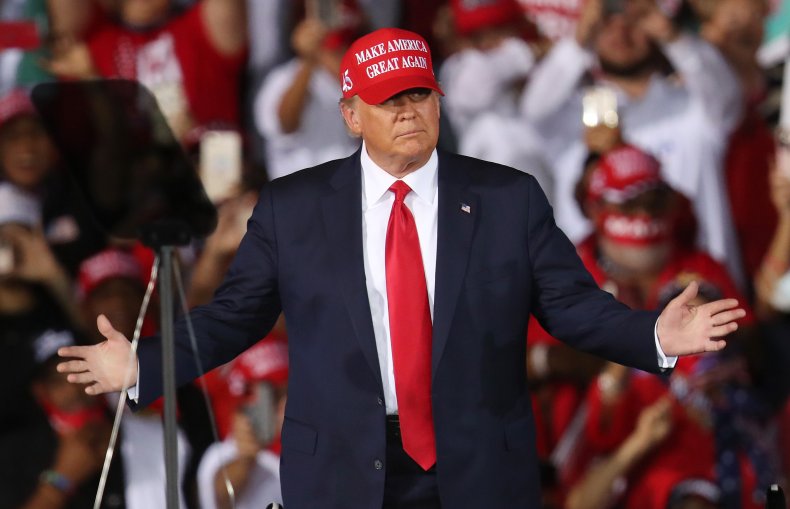 Trump and Republicans painting Democrats as socialists appeared to have struck a cord with South Florida voters, home to a large Latino and Cuban population but also a Democratic stronghold that allows Democrats to be competitive in the state. This year, Trump closed the 30-point loss that he had to Clinton in Miami in 2016.
As further evidence of more Florida Latinos buoying the president's re-election hopes, two first-term Democratic congresswomen—Debbie Mucarsel-Powell and Donna Shalala—representing the two southern-most districts in the state were ousted by their Republican challengers.
Aware of the potential problem with Latino voters, Biden and his allies in September ramped up efforts to capture that sector of the electorate. Still, Tuesday night's results suggested the endeavor proved futile.