Florida Casino Explosion Injures 26 People as Cause Remains Under Investigation
Twenty-six people were injured in an explosion in a south Florida casino caused by routine maintenance work on a fire suppression system Monday morning.
The injuries at the Seminole Classic Casino, in Hollywood, Florida, were all reported to be minor. Six people were sent to Hollywood's Memorial Regional Hospital for precautionary measures, while the other 20 people were treated at the scene, Gary Bitner, a spokesperson for the Seminole Classic Casino, told Newsweek. None of the injuries were believed to be life-threatening, Bitner added, and they were "quite varied," he said.
The explosion occurred at about 9:50 a.m. after there was a rupture in the suppression system during the system's regular six-month maintenance service, Bitner said. The fire suppression system uses a non-flammable compressed gas to put out flames, and it is located in an area with a lot of equipment.
"The rupture caused essentially several of the tanks to immediately empty, which did some damage in the location where the system was located," Bitner said.
The explosion occurred on the casino's second floor, but it knocked drywall to the first floor, resulting in the injuries, Bitner said. At the time, there were about 100 guests and employees inside the building.
The explosion is being investigated by the fire marshal's office, and cleanup is underway, so the casino will be temporarily closed. It is not known when the casino will reopen, Bitner said.
"This is all about making sure we know exactly how it happened so it never happens again," Bitner said.
The Seminole Classic Casino is the Seminole Tribe's original casino that first opened in 1979.
"This is actually the first high-stakes Indian casino to open in the country," Bitner said.
Several witnesses described the explosion to WSVN-TV, a local television news station.
"A big, large explosion, everything everywhere, from the AC... everything everywhere. People hurt—everything, an AC bust and a big boom," Ranier Hernandez, a woman who was inside the casino, told WSVN.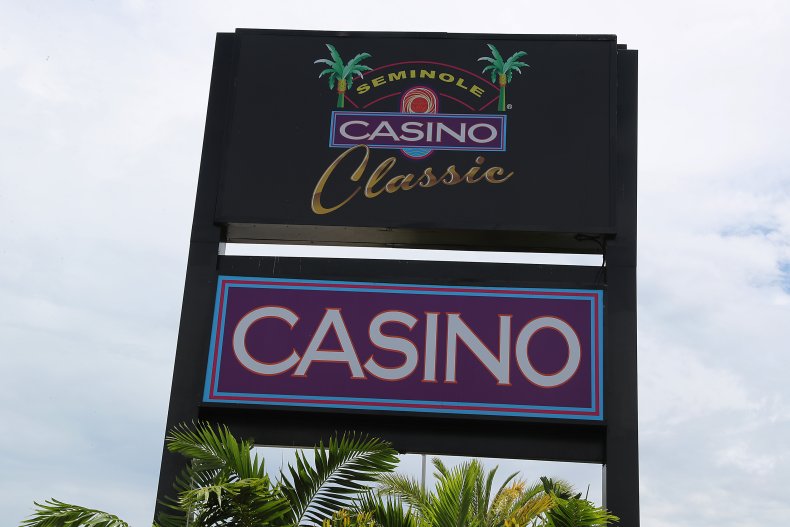 Another witness said "it got all dark like smoke, getting all the fiber from the walls, I don't even know what is that," WSVN reported.
Aerial video posted to Twitter by WSVN showed first responders and ambulances outside the casino. Video from inside the casino shows where the drywall was knocked out, behind a row of casino games. Pieces of the wall and debris were scattered throughout the casino floor.