Florida Church's Event That Drew 650 Kids and Defied COVID Guidelines Prompts Concern
A church in Florida has drawn criticism after it held an event for hundreds of young people on Friday, with many of the youths choosing to forego facemasks amid the ongoing coronavirus pandemic.
The event—which was held by the Bayside Community Church's East Bradenton Campus —drew significant criticism online, particularly after images and videos were posted. Some 650 young people attended, according to the Bradenton Herald. Those in attendance were largely middle and high school-aged students.
Newsweek reached out to the Bayside Community Church for comment, but it did not respond by the time of publication.
The Bradenton Herald reported that the church did take some social distancing precautions. Parents were warned about the risks prior to the event and signs urging young people to wear masks were posted at the entrances. Hand sanitizer was made widely available and all those in attendance were screened, having their temperatures checked prior to being allowed to enter. Attendance was also limited, as the venue could normally hold up to 2,500 people.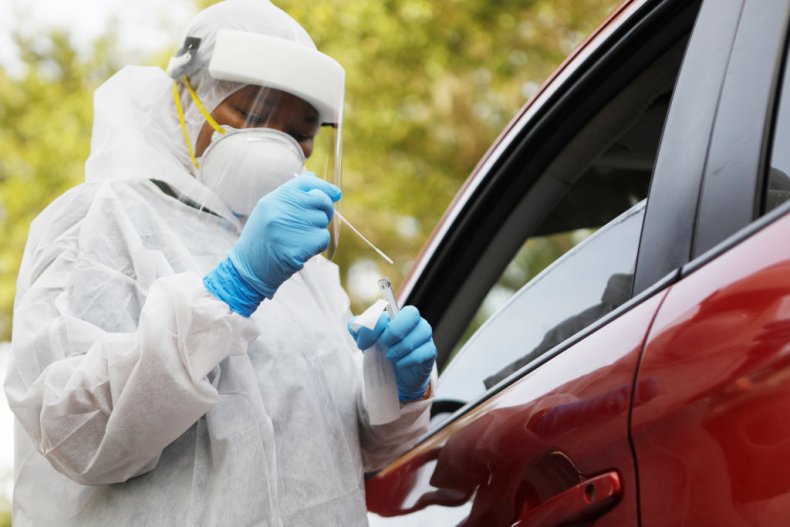 "Unfortunately, photos can't always show all of the precautions that took place," said Kristen Becnel, executive director of culture at Bayside, told the Herald. "We are sorry if the miscommunication of the photos caused concern."
"We did want to create as safe an environment as possible," Becnel said. "But not every student decided to keep their mask on the entire time."
Under the local county's current mandate, social distancing precautions and mask-wearing are required when indoors. Despite the precautions taken by the church, some parents were angered that such an activity would be held during the COVID-19 pandemic, particularly as Florida continues to be one of the hardest hit states.
"I'm just really appalled. We're in the middle of a pandemic," Jessica Patterson, a parent who alerted local officials after seeing photos of the event, told the Herald.
"It's sad to me that parents are sending their kids to this, and that the leaders of the church would host this event," she said. "We're doing all we can to not spread the virus. If this kind of thing keeps happening, I don't know when it's going to end."
Florida has recorded the second-highest number of infections of any state, with nearly 580,000 reported cases as of Tuesday, according to a tracker by The New York Times. The southern state has also seen the third-highest number of new infections over the past seven days, with a total of more than 39,000 in that time. Since the start of the pandemic, Florida has counted more than 9,700 deaths.
Manatee County, where Braden is located, has had a sizable outbreak, with a total of 9,891 confirmed infections, including more than 500 in the past week. In total, 247 people have died in the county due to COVID-19, with 18 of those deaths having occurred over the last seven days.
Churches have become hotspots for outbreaks in several parts of the country, as well as internationally. South Korea, which has done relatively well in managing its outbreak, has seen a recent spike in new infections, which have been largely linked to church services. In one outbreak, more than 400 cases were linked to the large church led by Reverend Jun Kwang-hun in Seoul. The pastor has also been infected with COVID-19.