A major Florida city has canceled a ball planned for its first Black mayor after the guest of honor declined to attend and some voiced concerns about its circus theme, the Associated Press reported. Mayor-elect Ken Welch said in a statement that the ball was a learning opportunity for St. Petersburg, which once barred Black people from attending events like the circus.
"The diversity of St. Petersburg is our most incredible strength and our community events must be inclusive and representative of all who live here," Welch said. "This is a teachable moment for many and we should always be open to learning together."
Some Black community leaders said the "Under the Big Top" theme, for which some promotional materials depicted a circus tent and a black pelican with a top hat, was unsuitable because of St. Petersburg's segregated past, the AP reported
"He has nothing to do with a circus, clowns, animals," said the Reverend J.C. Pritchett, who is president of the Interdenominational Ministerial Alliance. "He's a gentleman. A kind gentleman and a public servant."
The Junior League of St. Petersburg has thrown a mayoral ball for every newly-elected or reelected mayor since 2006, the Tampa Bay Times reported. Junior League spokeswoman Lisa Brock called Welch's decision "disappointing," saying that all past mayoral balls have had themes.
The 2014 ball, for example, was titled "There's No Place Like St. Petersburg" as part of a "Wizard of Oz" theme. Brock said that the Junior League offered to change the theme of the ball and raise money for new decorations and signage when they learned of Welch's decision, but his team did not answer requests to meet, the Times reported.
"It's not viable to have a ball without the guest of honor. The Junior League respects the right of the mayor to make whatever decisions he wants," Brock said, but added that it's "disappointing."
Brock said that the Junior League has added a new board role centered on diversity and inclusion and that the league may plan a new event for Welch in the future.
For more reporting from the Associated Press, see below.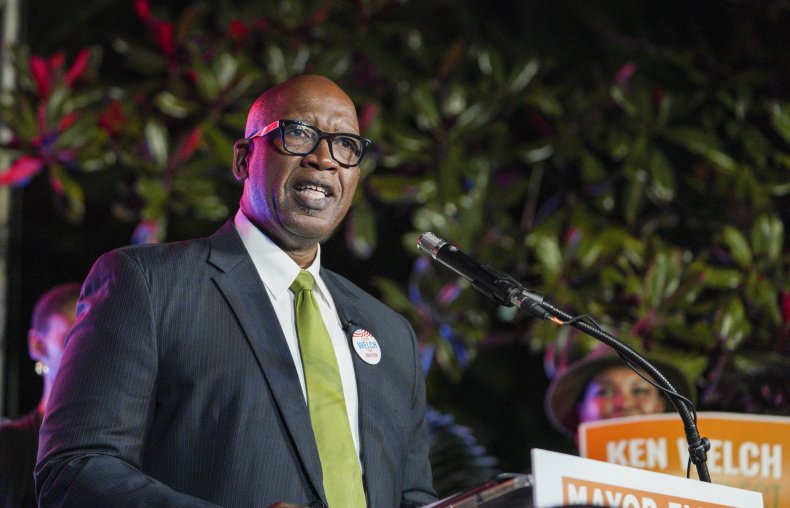 Adding to the concerns of Black leaders was the change in location from the more glamorous Coliseum or Mahaffey Theater—where past mayoral balls have been held—to a venue called the Factory with outdoor space in a warehouse arts district.
"For us to have the mayor's ball in a warehouse and a parking lot is unfitting," Pritchett said.
Welch, a Democrat, takes office on January 6. Current Mayor Rick Kriseman is stepping down because of term limits.