Updated (April 8, 2020): Marco Island is a small city somewhat secluded to the rest of the world, with the exception of those traveling to the Southwest Florida locale by car or boat. The Marco Island City Council this week voted 4-3 to reopen beach access on Monday, April 13. But two days later, after public scrutiny, they reversed their decision and will keep beach access closed.
"It is clear that the social cost and community-wide anxiety triggered by the opening of even a single pedestrian beach access point is not worth the few walks on the beach it would provide for our residents," the city said in a statement through its website on Wednesday morning.
This comes as the country, and most recently Florida itself, has locked down to prevent the spread of COVID-19, otherwise known as coronavirus. The city initially voted to open limited beach access to allow its residents to get some sunshine while getting away from constant news of the virus.
"The intention was to provide the opportunity for residents to be able to walk Marco Island's wide beaches, as a means to be outside, get exercise, and seek relief from the stresses of this time of worldwide emergency, something that many island residents asked for," the city continued in its statement. "What has become apparent subsequently and immediately is an extremely high level of concern among Marco Island's residents that any action with even the potential to increase visitor traffic is an action that puts them further at risk."
Marco Island is just south of Naples, which is nestled on the southwest coast of Florida on the Gulf of Mexico. The island is about three hours south of Tampa, and just over an hour west of Miami and the Atlantic coast.
Marco Island is within the jurisdiction of Collier County, which has reported 268 cases of COVID-19, including six cases on Marco Island, according to WINK TV in Southwest Florida.
The Marco Island beach access point will be located at Maple Avenue and Collier Boulevard for entry only. The one egress point is located at Winterberry Drive and Collier Boulevard for exit only.
The City of Marco Island issued a statement that said beach access is an amenity for residents to enjoy, but that public health is "the utmost importance."
"This is a highly stressful time for all, and being outside, exercising, and enjoying the beach is an outlet that can help many of our residents cope. That is the only motivation for allowing pedestrian access at this time. Public health is of the utmost importance and that priority will continue to inform our decision making as we go forward. Continued availability of access will be entirely dependent on adherence by beach-goers of all appropriate social distancing guidelines."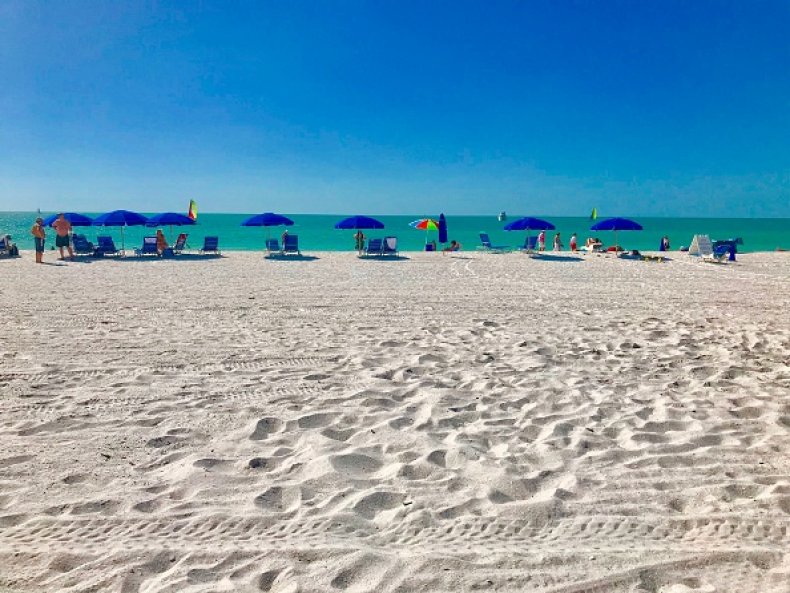 Many Floridians complained late last month when Gov. Ron DeSantis did not immediately shut down the state's beaches, bars, restaurants and large gatherings, but rather left it up to towns and counties across the Sunshine State. One by one, the beaches shut down, but only after spring break for colleges ended and the snow birds from up north had already left the beach towns.
The coronavirus was first detected in Wuhan, China during late 2019, and by April 3, more than 1.43 million people worldwide have tested positive for the virus, and there have been more than 82,000 deaths around the globe.
In the United States, there have been more than 400,000 cases—the most by any country. The U.S. has more than 12,800 deaths so far.
President Donald Trump said on March 29 he expects the number of cases and deaths in America to peak by April 12, and that the social distancing guidelines have been extended to April 30. Trump also said he expects a "full recovery" by June 1.
About the writer
Scott McDonald is a Newsweek deputy night editor based in Cape Coral, Florida. His focus is assigning and writing stories across all topics, from news to politics, business, weather, sports and international news. Scott joined Newsweek in 2018 after a lengthy career of print journalism in Texas, including The Dallas Morning News, where he was a sportswriter, and he's a voter for the Heisman Trophy. He has been a newspaper editor-in-chief and also a newspaper publisher. He is a graduate of The University of Texas at Austin. You can get in touch with Scott by emailing s.mcdonald@newsweek.com. Languages: English