Florida Coach Wanted 90,000 Fans at Home This Week, But Now His Players Have COVID
Florida Gators football coach Dan Mullen said he wanted 90,000 screaming fans at his home stadium this weekend when they host the LSU Tigers. Now, they hope to just play a game after suspending team activities because some of their players have caught coronavirus.
The school announced Tuesday that it has suspended athletic activities after five football players tested positive for COVID-19. Florida athletics director Scott Stricklin issued a statement that said the suspension of activities was out of caution.
"Out of an abundance of caution, team activities are paused as of Tuesday afternoon. Head coach Dan Mullen has been in communication with football players and their parents, and I have had conversations with the Southeastern Conference office, last week's opponent Texas A&M, and this week's opponent LSU," Stricklin said.
Strucklin added that the UF sports medicine department will reassess the situation on Wednesday.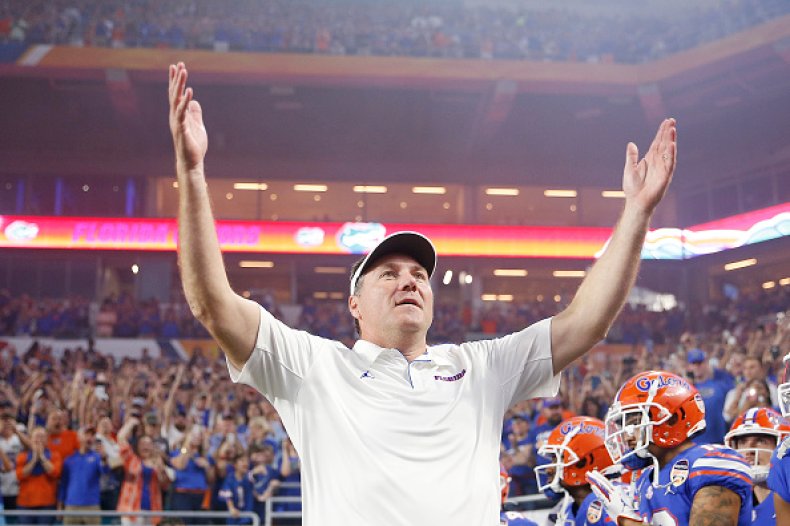 Both LSU and Florida lost on Saturday. LSU fell to 1-2 on the season after falling to Missouri, and Florida dropped from the top 5 in national rankings. Florida lost, 41-38, last Saturday at Texas A&M, which had a raucous crowd at Kyle Field despite COVID restrictions for crowd size.
Mullen said crowd noise played a difference in his team's loss at Texas A&M, and that he wanted to fill Ben Hill Griffin Stadium to the gills this weekend. In Florida, Gov. Ron DeSantis in September said he would allow stadiums at full capacity, as long as it coincided with local governments and affiliations.
The University of Florida never agreed to "pack the Swamp" like Mullen wished.
The status of the LSU-Florida game this Saturday is still unknown. The game is scheduled to be played at 4 p.m. ET Saturday on ESPN.
Florida has been a favorite to win the SEC's East Division this season and compete for a spot in the College Football Playoff—the equivalent to basketball's Final Four.
The Gators looked pretty impressive in the first two weeks of the SEC season with wins over Ole Miss and South Carolina. A last-second loss at A&M last weekend now has the Gators one game behind the Georgia Bulldogs in the East. Georgia, the No. 3 team in the country, travels to play No. 2 Alabama on Saturday.
Florida is scheduled to play Georgia on November 7 in Jacksonville, Florida, for the game known as "The World's Largest Outdoor Cocktail Party." The status for Florida remains up in the air right now, though, as the football program determines its next step while players test positive for COVID.