Florida Congresswoman Says She Was Denied Entry to USPS Processing Plant Over Mail Delivery Issues
Representative Debbie Wasserman Schultz of Florida said she was not allowed into a U.S. Postal Service processing facility early Friday morning in Miami-Dade County because of mail delivery issues.
"The plant manager has been directed not to come out and direct me as to what this mysterious protocol is that is suddenly preventing me from coming in," Wasserman Schultz told reporters. "I gave them notification yesterday that I wanted to come and do a walk-through of the facility."
The Democratic congresswoman contrasted the experience with her trip to the same plant back in February, at which she was not informed that any notice was necessary.
She had been attempting to do spot checks at two Florida plants, in Opa-Locka and northwest Miami-Dade, following her meeting with union members over the conditions of these processing facilities, according to NBC 6.
Wasserman Schultz said in a statement she "was denied access to observe a typical morning shift, and told indirectly by officials there, that she would have to follow potentially lengthy visitation protocols in order to tour the sites."
She noted this is her first site inspection since Postmaster General Louis DeJoy was appointed in May.
"By refusing to allow timely tours of the Royal Palm and USPS Processing Facilities in Opa Locka and Miami, Wasserman Schultz said those problems can be whitewashed, and any undelivered mail may be moved or removed," the Friday statement read.
Wasserman Schultz is a member of the House Committee on Oversight and Reform, which oversees the Postal Service and has the "authority to investigate the subjects within the Committee's legislative jurisdiction," according to the panel's webpage.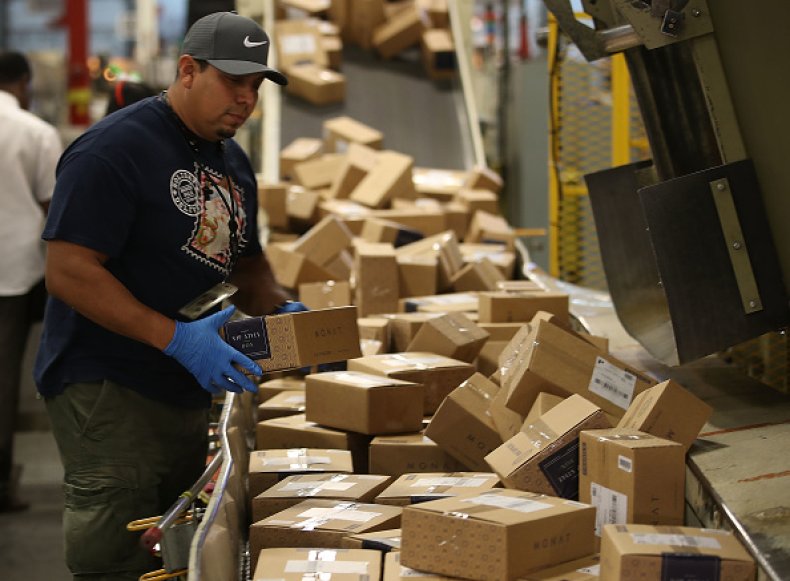 "The Postal Service welcomes visits from members of Congress at our facilities, and we routinely arrange for tours," USPS spokesperson Kim Frum told Newsweek in a statement. "Representative Wasserman Schultz has requested and participated in such tours in the past."
Frum said that USPS was unable to arrange the congresswoman's visit due to short notice.
"We learned late yesterday afternoon that Representative Wasserman Schultz wanted to arrange for a tour at 4:00 am this morning. We spoke with her staff to explain that we were unable to set up the tour on such short notice, but would be happy to accommodate her at another time," Frum said. "We look forward to working with the Congresswoman and her staff to arrange a visit in the near future."
Communication director of the congresswoman's office, David Damon, told Newsweek that USPS was notified of her visit at 1:30 p.m. on Thursday.
Her denied entry comes 60 days before Election Day as concerns heighten over mail times for ballots. The congresswoman told reporters on Thursday that she received photos from the National Postal Mail Handlers Union showing stacks of mail, dating as far back as July, that have yet to be sent out.
With more Americans than ever expected to vote by mail-in ballots in November because of the coronavirus pandemic, delays like these raise questions about the agency's ability to handle the influx of ballots.
Sam Wood, president of the American Postal Workers Union's Southwest Florida Area Local, told CNN that there were more than 5.75 million delayed packages and mail items at a Fort Meyers facility in July—a 3,090 percent increase in delayed items, compared with April.
"If DeJoy thinks he can just throw a bed sheet over what's going on behind these doors, he is sadly mistaken. It looked like the post master had something to hide," Wasserman Schultz said in a statement. "Without access to these public facilities, the public is blindfolded to the problems or fixes taking place there. DeJoy cannot delay the mail and delay oversight of these facilities."
"Postmaster DeJoy has already obstructed the committee by failing to provide requested documents in a timely way. Now he's denying Congress access to public facilities," she added.
The Postal Service's Expanded Election Mail Task Force held its inaugural meeting on Thursday. The committee was established "to ensure and affirm that the Postal Service is prepared to deliver on the election."
"The meeting reaffirmed my faith that the Postal Service is fully ready, willing and committed to deliver the nation's election mail timely and securely," DeJoy said in a press release. "And our organization is completely aligned on fulfilling our important role in the democratic process."
Update 11:06 a.m. EDT: This story was updated with comments from Frum.
Update 12:09 a.m. EDT: This story was updated with comments from Wasserman Schultz's office.
Update 12:45 p.m. EDT: This story was updated with information from Wasserman Schultz's February trip.