As Florida Continues to Reopen, State Sees Highest Daily Case Total in New Coronavirus Cases
Florida health officials reported 1,419 new cases of the coronavirus in the state on Thursday morning, the highest one-day jump in confirmed cases since March. Meanwhile, Florida Governor Ron DeSantis has slated the next phase of the state's reopening to begin on Friday.
Over half of the state's confirmed cases have been in South Florida. Broward, Palm Beach and Miami-Dade counties, all located within the South Florida region, are not included in Governor DeSantis' Phase 2 reopening declaration.
The addition of Thursday's totals makes 60,183 confirmed cases of the virus in Florida. However, as testing for coronavirus has expanded throughout Florida, 1,107,043 individuals have been tested statewide with 1,046,860 tests coming back negative.
Newsweek reached out to Governor DeSantis' office for comment. This story will be updated with any response.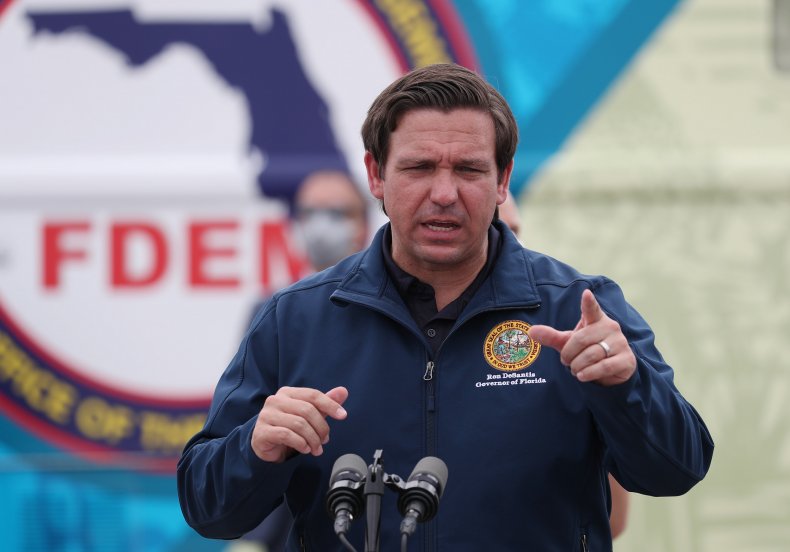 DeSantis signed off on the second phase of Florida's reopening plan during an announcement Wednesday from the Universal Studios theme park in Orlando. Noting the exclusion of Broward, Miami-Dade and Palm Beach counties, De Santis said he would work with them as reopening plans move along.
Under phase 2 of the reopening plan, bars and pubs will be allowed to open at 50 percent capacity for inside service and full capacity for outdoor areas. Social distancing protocols are still expected to be observed.
"You're seated to get served," DeSantis said. "Go enjoy. Have a drink. It's fine. We want to kind of not have huge crowds piling in."
Cinemas and entertainment facilities, such as bowling alleys, will also be permitted to open at 50 percent capacity while observing cleaning and social distancing guidelines. Gymnasiums and retail stores may operate at full capacity, as can personal service establishments as long as guidelines provided by the state health department are followed.
Florida is known for its amusement parks, some of which will open in June. Legoland Florida opened its gates on Monday. Universal Studios Florida, Islands of Adventure and Volcano Bay are expected to open Friday. Walt Disney World parks are not expected to open until July.
Florida's response to the coronavirus came into question in May after Rebekah Jones, an official at the Florida Department of Health, was removed from her position managing the coronavirus dashboard, an online resource for recently updated virus-related statistics within the state. Jones alleged that her absence from the position could negatively affect the data dashboard's "accessibility and transparency."
In a May statement, DeSantis' spokesperson Helen Aguirre Ferre said that the dashboard would be managed by the Geographic Information System (GIS) team within the Division of Disease Control and Health Protection at Florida's health department. Ferre said that the GIS team would continue to "update the Dashboard providing accurate and important information that is publicly accessible."