Florida Smashes Coronavirus Record With Over 11K Cases Added on July Fourth
Florida broke its highest single-day coronavirus record on Saturday morning after adding more than 11,000 new cases.
The latest state coronavirus report for Florida showed around 11,445 new coronavirus cases recorded for July 3. The reported case count is a new high for the state that previously reported a high of 10,109 infections on Thursday June 2.
The recent addition brings the total number of confirmed coronavirus cases in Florida to 190,052, with 1,921 deaths caused by the new disease.
On Friday, the state reported that the median age for cases was 35. The most coronavirus deaths have been in Dade County with 525.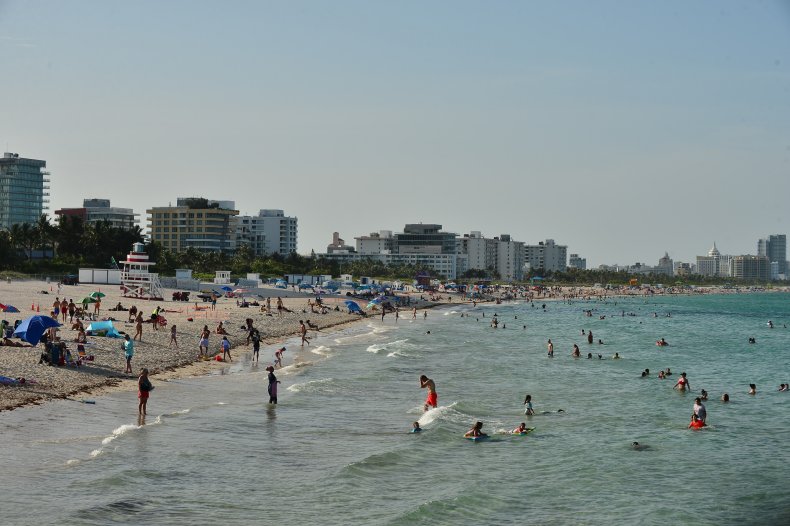 The record number of new cases came days after an 11-year-old boy died from COVID-19 complications in the state on Tuesday. He was the youngest person in the state to have died from coronavirus.
The Florida Department of Health has issued tips and advice for people to help slow the spread of COVID-19 over the Fourth of July holiday weekend, including basics like wearing a mask and avoiding large in-door crowds and gatherings.
On Thursday, Florida Governor Ron DeSantis held a press conference with Vice President Mike Pence to discuss efforts made by the state to ramp up testing and provide better treatment. DeSantis also announced that the state will open "COVID-only dedicated nursing facilities," where those in long-term care facilities can be transferred to prevent further spread to other people.
"The message is, you know, for those folks who are 65 and older, people that have significant underlying medical conditions, you know, do your best to avoid crowds and minimize close contact with people outside your home right now," DeSantis said.
Pence spoke about nationwide efforts to help slow the coronavirus spread. He also issued words of encouragement to ease Floridians' concerns amid the pandemic. "[We] hope and trust, perhaps even by the end of this year, that we are in a much better place to confront the rising cases that are impacting here in Florida and all across the country," the vice president said.
On Friday, ten Florida representatives sent a letter to DeSantis asking him to pass a statewide mask mandate to help curb the spread of COVID-19. "In watching the devastation that COVID-19 is causing in our communities we strongly recommend that the State of Florida implement a mandatory use of face covering over the nose and mouth while in a business or other building open to the public," the letter stated.
Newsweek reached out to Florida's Department of Health and Governor Ron DeSantis for comment but did not receive a response in time for publication.