Florida Couple Attempts to Hold Wedding in Vacant Mansion Passed Off as Their Own on Invitations
A couple in a suburban area of Fort Lauderdale, Florida, attempted to host their wedding at a vacant mansion that they falsely passed off as their own on Saturday, ultimately resulting in police intervention.
Courtney Wilson and Shenita Jones invited guests to a 16,313-square-foot home with nine bedrooms, 15 bathrooms, a bowling alley, a theater and an 800-square-foot bar, and labeled it "our dream home" on the wedding invitation, The South Florida Sun-Sentinel reported.
The couple referred to themselves as "the Royal Couple," and invited their guests to a ceremony that was to take place at the sprawling mansion in Southwest Ranches, which they dubbed "the Wilson Estate," at 3:30 p.m. on April 17.
The wedding was also set to include a "Red Carpet Cocktail Hour," followed by a reception that was to last until 2:30 a.m., and then a Sunday brunch gathering the following day.
But the bride and groom failed to disclose one important detail: the mansion did not belong to them, and they were planning to trespass on the property that they believed was vacant.
When Wilson showed up Saturday morning to set up for the day's events, he was met by Natahan Finkel, the disgruntled owner of the home, who swiftly called the police. According to the Sun-Sentinel, Finkel had put the estate up for sale for $5.7 million two years ago, and lived on a different home located on the property.
"I have people trespassing on my property," Finkel told a 911 dispatcher, according to the news outlet." And they keep harassing me, calling me. They say they're having a wedding here and it's God's message. I don't know what's going on. All I want is [for] it to stop. And they're sitting at my property right at the front gate right now."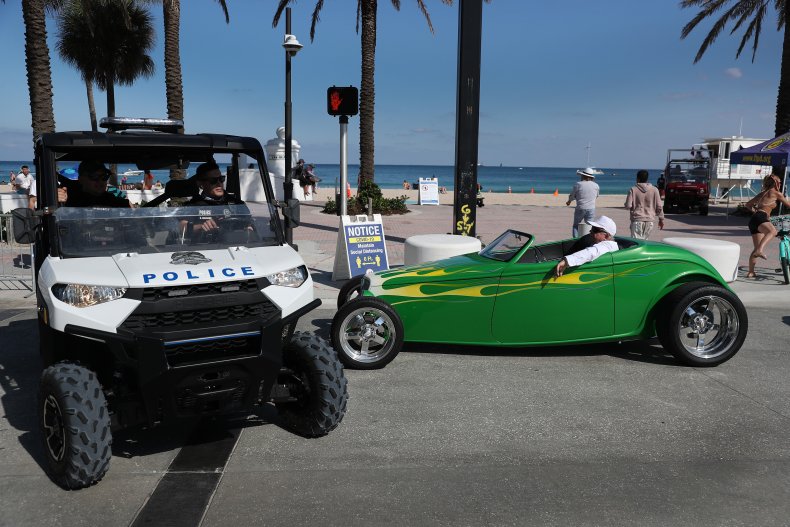 Police showed up to the property on Saturday and escorted Wilson away from the home, without pressing charges.
"They told them to get off the property and not to come back," Finkel said. "That was the end of it."
Keith Poliakoff, the town attorney, later told reporters that Wilson had checked out the property several times in the weeks leading up to the wedding, claiming that he wanted to purchase it. He had even asked Finkel if he could use the backyard for the wedding.
"The guy figured it was a vacant house and didn't realize Nathan lived on the property in a different home," Poliakoff said. "This guy had no idea he lived there. You know the shock that must have been on his face when he showed up at the gate and the owner was home?"
Wilson declined to address the incident when reached for comment by the Sun-Sentinel on Tuesday.
"I don't want to talk about it," he said.
Newsweek contacted Poliakoff for additional comment, but did not hear back in time for publication.