Florida Couple Left Multicolored Pig in Car to Go to Mall, Charged With Animal Cruelty After Officer Rescued the Animal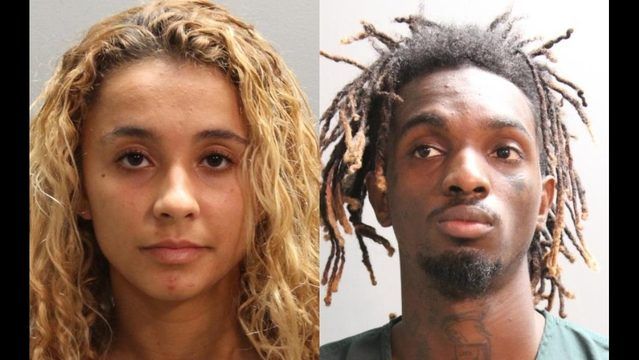 A Florida couple have been charged with animal cruelty after they left a pig in a car to go to the mall, according to police.
On Monday afternoon, witness Miranda Lamendola and her co-worker were heading to the Avenues Mall on Southside Boulevard in the coastal city of Jacksonville, northeast Florida, when they spotted a pig in a vehicle, News 4 Jax reported. Avenues Mall is an indoor shopping center.
The animal had been left in the vehicle on what was the hottest Memorial Day since 1989, when temperatures reached 100 F, News 4 Jax reported. Police measured the temperature inside the car, but did not include it on the arrest report. However, Lamendola told the broadcaster the car had hit 120 F in the shade.
She attempted to find the car's owner. When she failed, she started to film the pig, who was sat in the back, CBS-affiliated Action News Jax reported citing police.
A still of the video seen by News 4 Jax shows a car seat covered in items, with the animal sat on the floor. The pig was described as multicolored in the arrest report by Jacksonville Sheriff's Office. In the still, it appears to have pink skin, orange hair and brown markings.
Air conditioning wasn't switched on inside the car and the windows were only open an inch, according to Lamendola, meaning she was unable to fit her arm through.
Lamendola told News 4 Jax she and a fellow employee alerted security, but personnel were unable to help the animal because they aren't authorized to access the inside of a car without the owner's permission. She decided to call 911.
"The pig has no water, has no food and he's freaking out," she told News 4 Jax, adding: "I'm freaking out after 45 minutes of this whole process."
The animal started to foam at the mouth after it was sat in the car at least an hour after Lamendola started to film it.
"At first I thought he was actually throwing up," said Lamendola. The animal was shaking, and started to become unresponsive, she added.
Lamendola asked a police officer to break in to the car to save the animal. To free the pig, the officer broke a window of the vehicle.
A photo from the scene shows a police officer cradling the pig in his arms. After the pig was rescued, it was sprayed down and given water to drink, and began to recuperate.
The suspects, 20-year-old Mark Gray and 19-year-old Trinity Tavarez-Soto, then left Avenues Mall and headed towards the car, according to News 4 Jax. Police arrested the pair outside the mall. The pig had been in the hot car for more than an hour.
Police handed the pig over the Animal Care and Protective Services.