Florida COVID Cases Among Lowest in Country Two Months After Record High Surge
Florida appears to be at the end of its wave of coronavirus cases after seeing a massive surge in infections as the Delta variant spread throughout the state.
Cases in the Sunshine State have been trending downward in recent weeks, with a 48 percent drop in infections over the past two weeks, according to data from The New York Times. At a seven-day average of about 2,600 new cases per day, Florida is experiencing one of the lowest case counts (per 100,000 people) of any state.
Florida's cases started trending upward at the end of June. Cases have since been on the decline, according to the Times, dropping to about 2,400 per day, the lowest they've been since July. Over the summer, Florida reported more than 27,000 new cases in one day, a record high since the start of the pandemic, according to the U.S. Centers for Disease Control and Prevention (CDC).
The state is no longer considered an area with "high" community transmission, and the CDC categorizes it as having "substantial" transmission. With a seven-day percent positivity rate between 3 and 4.9 percent, Florida's rate is lower than that in all but two states. Both California and Hawaii have seven-day positivity rates of less than 3 percent, according to the CDC.
On a per capita basis over the past seven days, Florida has had fewer cases than every state in the contiguous United States, with the exception of California. Hawaii's seven-day case rate on a per capita basis is lower than Florida's.
About 80 percent of Florida's adult population has been vaccinated against COVID-19, according to the CDC. Data from a Johns Hopkins University tracker shows the Sunshine State hasn't seen a significant surge in vaccinations over the past several months, and it's unclear exactly why cases are trending downward.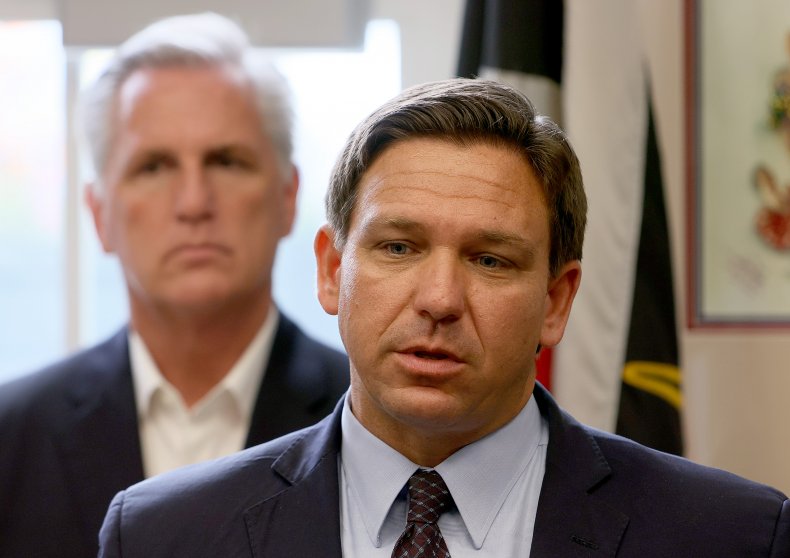 One of the most plausible explanations is that the Delta variant has run its course, at least for now. Throughout the pandemic, two-month surges in cases have been followed by a decline in infections. Jason Salemi, a professor of epidemiology at the University of South Florida, told WKMG that the variant "burned through the population" and may be struggling to find people to infect.
Thomas Unnasch, distinguished professor of public health at the University of South Florida, told WFTS outbreaks would likely still occur but wouldn't be the same "big waves" the state has seen throughout the pandemic.
With 3.6 million cases, Florida has had the third-highest case count in the country and has the fifth-highest count on a per 100,000 people basis, according to the CDC. Meanwhile, Florida Governor Ron DeSantis' response to the pandemic, which has included resistance to public health measures such as mask wearing and social distancing, has come under criticism.
However, DeSantis has stood by his management of the state during the pandemic, pointing to his protection of people's jobs by keeping the state open throughout the health crisis. A vocal advocate of monoclonal antibody treatments, DeSantis credited the outpatient therapy for helping drive down hospitalizations.
DeSantis expanded access to monoclonal antibody treatments in mid-August and told a Republican crowd on Friday that medical systems, not the state government, should have been providing large swaths of people with the treatment. The treatment is authorized for use in high-risk individuals, and millions of Americans could be eligible for it because high risk includes those with a body mass index of 25 or higher.
The Florida governor has bucked mandates that require mask wearing or vaccination. He's barred school districts from implementing mask mandates, saying the decision should be left up to parents. But the governor has found himself in legal battles with parents who want their districts to be able to require masks in school.
As with local mandates, DeSantis has vowed to fight President Joe Biden's vaccination requirements. In addition to a mandate for federal workers, Biden announced in September that businesses with more than 100 employees would be required to have workers vaccinated or tested weekly.
At a press conference this past Friday, DeSantis said Florida will challenge any such mandate in federal court, saying he was "personally offended" that a police officer could "potentially lose their job."