Florida Vaccine Center Reaches Capacity as Hundreds of Cars Line Up Overnight
A Florida vaccination center has reached capacity as of 6 a.m. ET on Monday morning as hundreds of elderly people lined up in the cars overnight.
The vaccination center at Daytona Stadium, in Daytona Beach, Florida, was set to vaccinate around 2,000 people aged 65 years and older against COVID-19 over Monday, January 4, and Tuesday, January 5, with around 1,000 doses being given per day.
It was announced that the COVID-19 Moderna vaccine would be given for free on a first-come, first-served basis, which resulted in the center reaching capacity as hundreds of cars camped out overnight.
Fox 13 News reports that there were cars parked along the street for miles, with passengers aged 65 or older willing to wait hours for the chance to receive the vaccine.
By early Monday morning, the site had reached capacity and the gates were closed to incoming traffic. Daytona Beach Police encouraged anyone who was not within the stadium property to try again on Tuesday.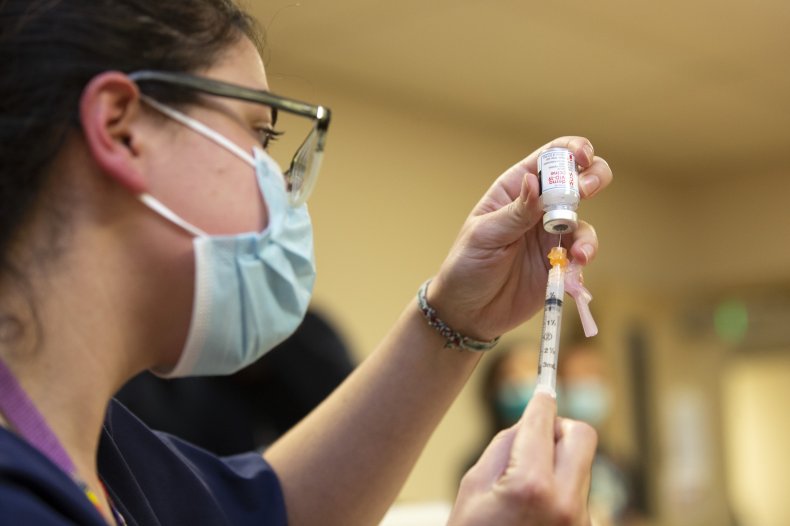 However, the police are not encouraging people to camp out overnight and said in a statement: "We understand that there is [a] very high demand for this vaccine and that some people are considering camping out the night before or showing up hours in advance to make sure they or their loved ones get the shot first.
"We DO NOT encourage you to do that because it is a potential safety hazard to everyone involved."
Those who will receive a vaccination today will receive a second dose reminder card with the manufacturer name of the COVID-19 vaccination they received. The Department of Health in Volusia County reminds its residents that the Moderna booster vaccination should be received 23 days after the initial dose and that the second dose must be from the same manufacturer as the first.
The Department of Health in Volusia will return to Daytona Stadium to offer the second does to those who will receive one today.
For those who will not receive the vaccine today, Volusia's Department of Health will announce future vaccination dates across the county based on vaccine availability.
Florida Governor Ron DeSantis signed an executive order on December 23 establishing that the state would be prioritizing seniors 65-years-old and older, plus health care workers, and residents of long-term care and assisted living facilities.
As of December 30, more than 175,000 Floridians have received a vaccine against COVID-19. Florida residents aged 65 or older can access the vaccine through county health departments in partnership with county emergency managers or at hospitals.
Methods of deploying the vaccine will vary by area, with some Florida counties requiring registration and others operating on a first-come, first-served basis.