Florida Dem. Lawmakers Say GOP Gov. DeSantis Has 'Declared War' on Civil Rights With New Proposal
Democratic lawmakers in Florida said Republican Governor Ron DeSantis' new proposal to strengthen penalties against protesters in the state threatens the right to assemble under the First Amendment.
"Governor, with all due respect, you've just declared war on our civil rights," Representative Shevrin Jones said Tuesday afternoon. "We are prepared to strap up our boots and, in the spirit of John Lewis, get into some good trouble."
During the virtual news conference, several lawmakers called the proposal "unconstitutional" and a "fear tactic" used to appeal to Republican voters ahead of November's presidential election.
On Monday, DeSantis proposed legislation to impose felony penalties during demonstrations. The governor targeted conflicts between law enforcement and protesters that have emerged from the Black Lives Matter movement.
Under the proposal, it would become a felony to participate in protest where property is damaged or public monuments are toppled.
Following the death of George Floyd and the subsequent protests demanding an end to racial injustice, a number of Confederate statues across the country have been removed. While some monuments were taken down by local officials, several were toppled by crowds of protesters.
The "Combating Violence, Disorder and Looting and Law Enforcement Protection Act" would also make obstructing traffic during a permitted protest a felony. This removes liability for injury or death for drivers who strike protesters. Over the summer, several vehicles were seen driving into crowds of demonstrators, including two New York Police Department cars.
Individuals who throw objects at police officers would also be subjected to a minimum of six months jail time and those arrested during protests would be denied bail before their hearings, under the governor's new proposal.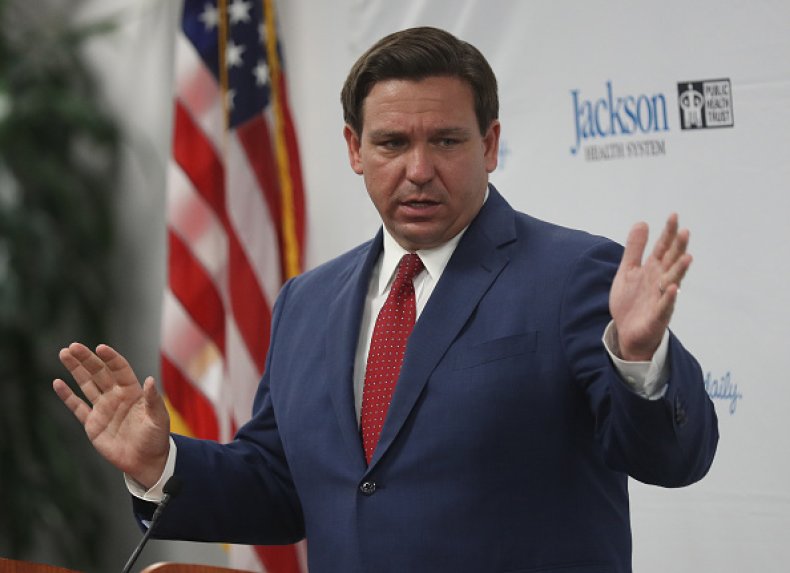 "The first thing Gov. DeSantis wants to do is he wants to criminalize peaceful protesters?" Representative Carlos Guillermo-Smith asked on Tuesday.
"We have not been in Tallahassee to pass a single COVID-19-related relief package from the legislature since March. It's an outrageous prioritization of a non-issue and it's obviously political," he added.
The governor has been accused of drafting proposal that supports President Donald Trump's law and order campaign, especially since demonstrations in Florida were not as violent as those in other parts of the country, such as Washington, Oregon and Wisconsin.
"Leave it to Florida's Republicans to give 100 percent to a 10 percent problem, while they give zero effort to the real problems affecting Floridians," Representative Fentrice Driskell said on the call. "Mr. Governor, you have 99 problems, but protesters ain't one."
Driskell cited a report that found 90 percent of the 7,750 protests between Memorial Day weekend and the end of August to be peaceful.
Representative Anna Eskamani also argued that DeSantis already has laws to address the problems arising from protests.
"You already have laws on the books to address vandalism, to address looting," Eskamani said. "We know this has nothing to do with public safety. It will lead to the arrests of more Black and brown people."
"For those who may be feeling like the government is putting its knee on your neck," Driskell added. "This November you have to exercise your power to vote."
Newsweek reached out to DeSantis for comment but did not hear back before publication.