Democrat Nikki Fried, Florida's Commissioner of Agriculture, said that she has suspended the concealed carry licenses of 28 gun owners charged in the January 6 insurrection at the U.S. Capitol.
"I oversee concealed weapons licensing & the private investigative, security, & recovery services industries," Nikki Fried wrote in a January 5 tweet. "So far I've suspended 28 licenses of individuals charged in the January 6 attack on the U.S. Capitol and our democracy."
"The deeply disturbing events that occurred at our nation's Capitol on January 6th were sedition, treason, and domestic terrorism–and those individuals involved in the insurrection must be held accountable for attempting to subvert our democratic process," Fried said about the suspensions in a late July 2021 statement to the U.S. House of Representatives' Select Committee to Investigate the January 6th Attack on the U.S. Capitol.
A permit isn't required to own a gun in Florida, but a license is required for owners to carry a concealed firearm. The state's agencies are forbidden by law from maintaining lists of firearm owners, but they're allowed to maintain records on concealed carry permits.
As of January 2022, 2.3 million Floridians have concealed carry licenses, according to the U.S. Concealed Carry Association.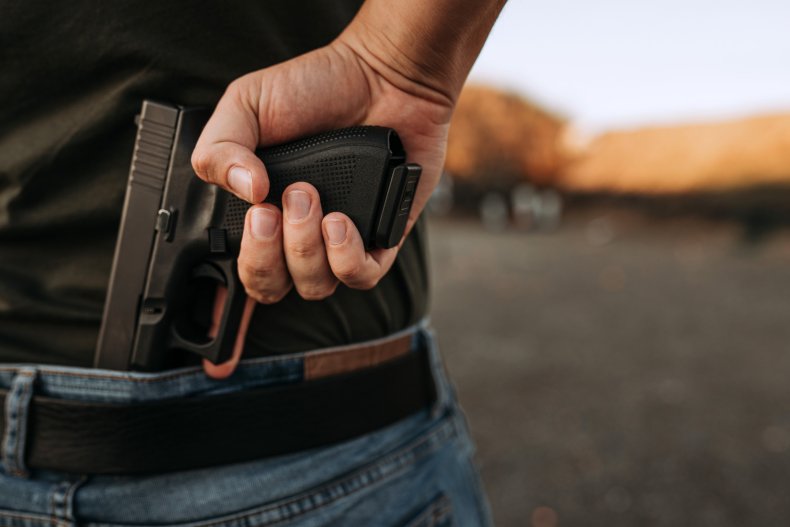 Fried's agency can immediately suspend a person's concealed carry gun license when the licensee is charged with a felony or other disqualifying offense, WFLA reported. If the licensee is found guilty of the charge, the agency can revoke the permit holder's concealed carry license.
Fried, 44, is the only Democratic statewide elected official in Florida. She is running to become Florida's governor in the November 2022 elections.
Concealed carry is allowed in Florida's public businesses, restaurants, personal vehicles, employee parking lots, as well as national and state parks.
Concealed carry isn't allowed inside of the state's schools, government buildings, hospitals, bars, polling places, airport terminals, some hotels and any other places where the federal government prohibits firearms.
On June 30, Florida's Republican Governor Ron DeSantis signed a bill allowing concealed carry inside of religious institutions.
As of January 5, 2020, 76 Floridians have been arrested in connection to the January 6 insurrection. Florida is the U.S. state with the largest number of January 6 arrestees, according to The George Washington University Program on Extremism.
It might seem odd that the state's agricultural department handles the state's concealed weapons permit program. Most states leave such handling to state police or courts.
However, in 2002, the National Rifle Association (NRA), the gun manufacturers' lobbying group, authored a state law that moved the Division of Licensing from the Florida Department of State to its Department of Agriculture. The NRA wanted this so that the department would be answerable to an elected official, the Tampa Bay Times wrote.