Florida Democrat Endorses DeSantis for Governor: 'Obvious Choice'
Florida's Republican Governor Ron DeSantis has made a career of fighting Democrats at every turn of his four years in office. Now, he's touting an endorsement from one.
On Tuesday, Democratic Palm Beach County Commissioner and former Florida state Representative David Kerner said in a news conference he would be endorsing the conservative firebrand over his party's own nominee, Charlie Crist, shocking the local political establishment in a county that went for Democratic President Joe Biden by 13 points in the 2020 election.
Endorsing the governor "was the obvious choice this election cycle," Kerner tweeted on Wednesday.
"This was not the proverbial lesser of two evils," Kerner, flanked by a smiling DeSantis, said at the news conference announcing his decision. "Governor DeSantis has demonstrated himself beyond worthy of the humble duties of this office. And he has done so with the level of dignity, purpose and respect that is lost in the public sphere today."
Kerner, who previously served as Palm Beach's mayor, cited Republican claims Crist would defund the state's law enforcement after the one-time former governor, who was a Republican while in office, claimed he would support efforts to reallocate police funding to deploy mental health professionals to assist police on domestic violence calls—which Republicans have equated to defunding the police.
Kerner's previous record as a legislator offers few clues as to where else he and DeSantis agree. In 2016, Kerner sponsored the Florida Competitive Workforce Act, which prohibits discrimination based on sexual orientation and gender identity or expression—a striking policy contrast with a governor who has fully put his weight into LGBTQ-related controversies.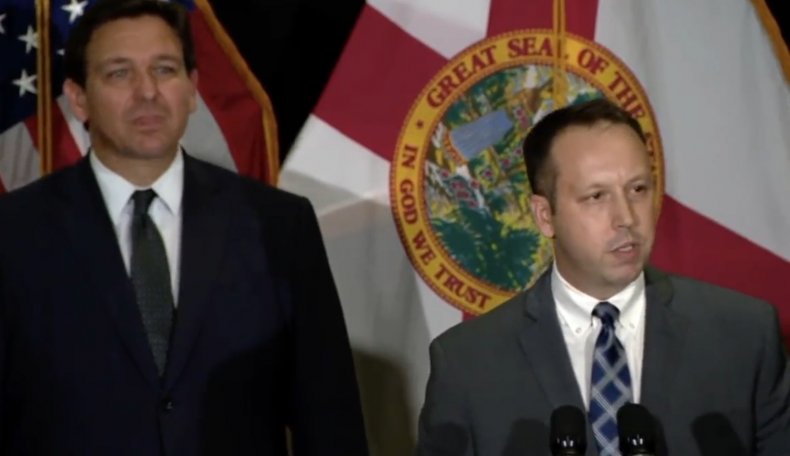 However, Kerner—a potential future candidate for sheriff in the area—also came to the governor's defense following a 60 Minutes report accusing DeSantis of engaging in a "pay to play" scheme with the grocery store chain Publix, which he described as "intentionally false."
"Because of [DeSantis'] efforts, working in coordination with Palm Beach County officials, over 275,000 seniors in our county, which is over 75% of the total senior population, have been vaccinated," Kerner said in a statement at the time. "I am proud of how our county and state leadership have executed on this important mission, and the results speak for themselves."
It is unclear whether Kerner's endorsement will move the needle in the traditionally competitive state of Florida. To date, most polls have shown DeSantis with a comfortable lead over Crist, while his campaign has reported record-setting fundraising numbers as he contemplates a future bid for national office.
Meanwhile, Democrats have not spent much money to compete in the state. According to NBC News, DeSantis, his affiliated committees and the state GOP have spent approximately $30 million on advertising to support his reelection bid, while Crist and his allies have spent just $7.1 million.