Florida Election Midterm Polls: Andrew Gillum, Bill Nelson on Track to Defeat Republican Opponents?
Florida Democrats Andrew Gillum and Bill Nelson maintained slight leads over their GOP opponents days before the midterm elections.
A new Reuters/Ipsos/University of Virginia Center for Politics poll published on Wednesday showed gubernatorial candidate Andrew Gillum ahead of GOP opponent Ron DeSantis by six points. Incumbent Senator Bill Nelson, challenged by Republican Governor Rick Scott, was up by five points.
As of Wednesday, Real Clear Politics showed Gillum had a three-point lead over DeSantis, a former congressman, based on an average of nine polls from October 16 to 28. Gillum's lead has held steady since September, for the most part, with his average lead ranging from one point to nearly six points. The Democratic candidate's average lead peaked to 5.8 points on October 24, the day of the two candidates' second and final debate.
Nelson's lead has not been as stable. The momentum has swung slightly between Nelson and Scott throughout the month of October. As of Wednesday, Real Clear Politics showed Nelson had a two-point lead over Scott, based on an average of nine polls from October 16-28. Nelson's largest average lead was in March with a 3.8-point lead. Since then, Scott closed the gap and on average polled ahead of Nelson from late June to late September. Since late September, Nelson has been either tied with Scott or ahead of him by an average of less than three points.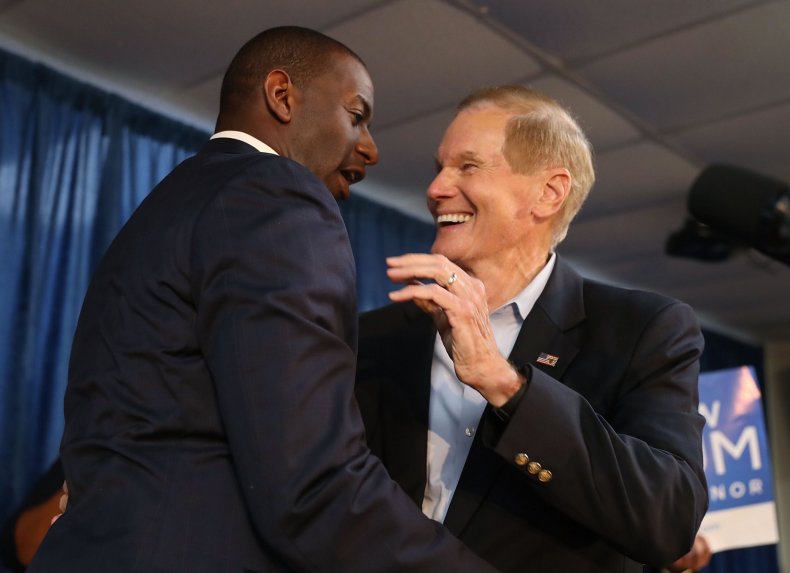 The Democrats' slight leads come as President Donald Trump and independent Senator Bernie Sanders of Vermont make trips to the Sunshine State to stump for their candidates.
Trump will hold a rally in Fort Myers—a city along the state's southwest coast—Wednesday evening to campaign for DeSantis, Scott and incumbent GOP Congressman Francis Rooney. The president has been a longtime supporter of DeSantis, and vice versa, since endorsing the candidate during the primaries. Trump's Wednesday visit to Florida is part of a last-ditch effort to help Republicans win as many governor and Senate races as possible. Over the next six days, the president will hold 11 campaign rallies in eight states.
That same day, Sanders will travel with Gillum's running mate for lieutenant governor Chris King, and Democratic nominee for attorney general, Sean Shaw. Sanders was an early supporter of Gillum, endorsing him during the primaries and cementing the Democratic hopeful as the most progressive candidate. As the self-described democratic socialist did in his 2016 bid for the Democratic presidential nomination, Sanders will likely appeal to young voters at two of the state's largest public universities, the University of Central Florida in Orlando and the University of South Florida in Tampa.
In a news release, the Gillum campaign said Sanders would be speaking with college students about the "importance of voting early," in addition to encouraging "students and all Floridians to get engaged, vote and volunteer in the final stretch of the campaign."