Florida Democrats Plead With Biden to Visit Florida to Support Cuban Fight for Freedom
Cuban exiles walked up to a microphone in Florida flanked by elected Democratic officials on Wednesday and called for leadership from President Joe Biden.
They requested concrete action, most importantly that he come to Florida and take to the bully pulpit to declare support for the repressed Cuban people.
Among the group that included Representative Debbie Wasserman-Schultz and Miami-Dade County Mayor Daniella Levine Cava was State Senator Annette Taddeo, who represents District 40, a majority Cuban-American district won by Donald Trump.
"This is a moment in history," Taddeo told Newsweek. "It's a show of solidarity, and I know the White House is working very hard on this, but I do think actions speak louder than words, and we need to see actions."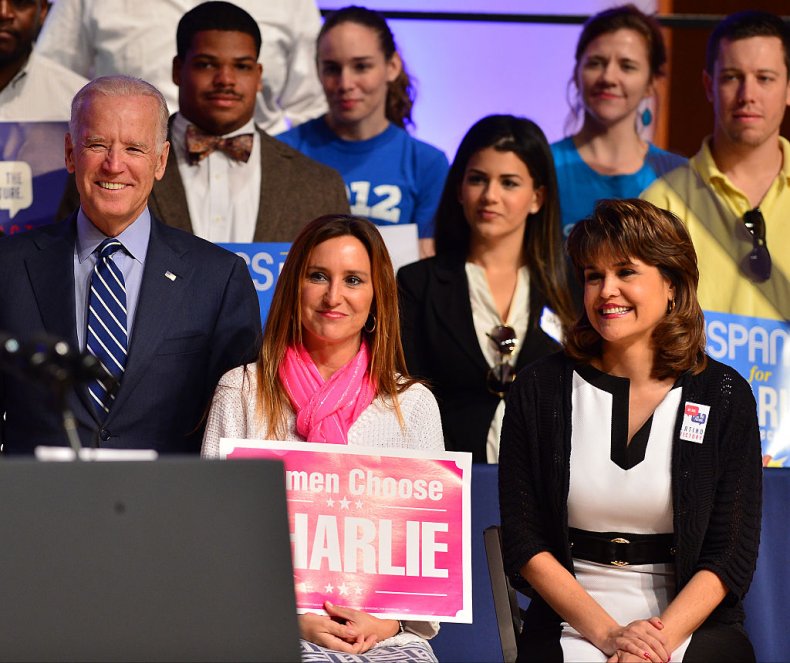 The need for sending a message to the White House was clear in the eyes of Mike Rivero, a lead organizer for Cubanos con Biden during the campaign, who took to Facebook with a post that began "Dear President Biden."
Noting that he proudly voted for him in November, Rivero said Cuban-Americans who supported Biden faced "harassment, ridicule, and pain," which even included being egged.
"We are asking you to come to Miami, the home of the Cuban-American community, and hear the cries of our friends and family on the island," Rivero wrote. "This is a moment in time where the people of Cuba have the possibility for REAL change and you have the power and diplomatic reach to help via humanitarian aid and international pressures."
Rivero's friend, Jose Renelmo Castillo Palacios, another organizer who worked alongside the campaign, posted a similar message to the president. He told Newsweek Biden must do more than his early statements on Cuba.
"We want President Biden to do more than just a press release," he said. "A press release is not enough."
He stressed that he and many Cuban-Americans are not calling for military intervention, but diplomatic pressure. He argued that a presidential visit to Miami would have a tremendous domino effect.
"To gather Cuban-American leaders 90 miles away from Cuba and listen to their pain sends a message that Cubans are not alone in the fight," Castillo Palacios said. "That gesture, that image, of an American president 90 miles away can be powerful and embolden their efforts."
The White House did not provide an on-the-record response regarding plans for Biden to visit Florida.
Press Secretary Jen Psaki said on Wednesday that the White House is reviewing policy towards Cuba, and that the protests will play a role in the decision-making. But she would make no commitment.
"Is there a planned speech or trip?" She asked rhetorically. "Not at this time."
For her part, Taddeo told Newsweek she does not believe a Biden trip to Florida is in the works.
"I do believe the White House is preparing to do something, but I don't think they will come to Miami," she said.
According to Tony Hernandez, the son of Cubans who fled Cuba on freedom flights in 1967 and a filmmaker who has worked with Democrats on ads in south Florida, for Biden not to come to Florida would be a major mistake.
"For our community this is the most important event of the last 62 years of this oppressive regime," Hernandez told Newsweek.
He recalled conversations with his father and the views of many old school-Cubans who are staunch Republicans who say they don't want to hear a word from Democrats because of the failed Bay of Pigs invasion 60 years ago in 1961, and what are viewed as repeated betrayals by Democrats from John F. Kennedy to Bill Clinton.
"Biden has the opportunity to change that narrative and show he's willing to go to bat for us," Hernandez said. He called it it an opportunity on a "silver platter" to pull away large numbers of Cuban voters from the Republicans.
He insisted that it can't be a half-hearted gesture, however.
"But not with a bulls*** response that 'We stand with the people of Cuba,'" he said. "It's not enough to come to Versailles and have a cup of coffee and get our vote."
Rivero agreed, arguing that the Republican Party has a history of "capitalizing on the struggles of the Cuban and Venezuelan people," but Biden can seize the moment by doing the right thing.
"Making inroads in the Cuban-American community will go a long way towards helping the party at large, and Democrats at large," Rivero said.