Florida Democrats See Familiar Storm Cloud in Spanish-Language Cuba Coverage
As the protests against the Cuban dictatorship continue, Florida has emerged as the nexus of Cuban-American advocacy against the regime amid calls for the Biden administration to do more to support the Cuban people.
But as it did during the November election, Spanish-language media in South Florida is having an outsized role in telling the story of what is unfolding, often in a partisan or incomplete way that has darkened the mood of worried Democrats in the state, reminding them of their losing battle against disinformation in 2020.
Raul Martinez, a Democrat whose top-rated Caracol 1260 AM radio show was canceled when America CV bought the station and decided to take it in a more conservative direction, told Newsweek the coverage often calls Democrats communists and socialists, claims President Joe Biden will not call out communism in Cuba, and makes broad pronouncements of the power the White House has to power the internet in Cuba.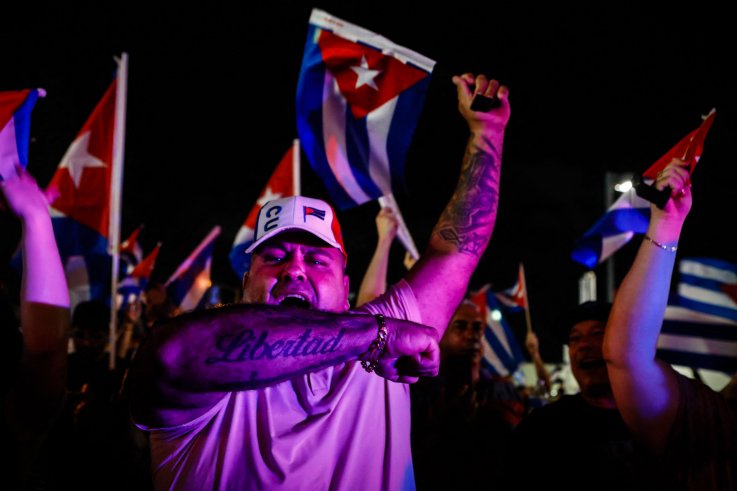 "If FOX is saying crazy s**t you can at least turn on MSNBC and figure out what the truth is," former congressman Joe Garcia, whose family fled Cuba, told Newsweek. "But here the fervor has spilled online and turned to xenophobic rightwing craziness." In this photo, a man shows a tatoo that reads "Freedom" during a protest showing support for Cubans demonstrating against their government, in Hialeah, Florida on July 15, 2021.
Eva Marie UZCATEGUI / AFP/Getty Images
"What they imply is that Biden has the key to turn on the internet in Cuba, which is totally inaccurate," Martinez said.
Biden last week called Cuba a "failed state" and communism a "universally failed system."
On Thursday, the White House announced new sanctions on specific Cuban leaders using the Magnitsky Act, which began as a response to Russian aggression and was later used against Venezuela as well.
The White House did not move forward on using high-altitude balloons to grant increased internet access, as South Florida Republicans called for and Miami radio and Spanish-language networks amplified, because it was convinced the plan wouldn't work.
But Thursday's announcement did include plans to provide virtual private networks, or VPNs, to increase internet access on the island.
"I'm hoping today's announcement can stop some of the bleeding on Spanish outlets," said Andrea Mercado, the executive director of Florida Rising, which took part in creating a report on the disinformation broadcast Spanish-language stations in the wake of the Capitol attack on January 6.
Cuban-American activists and Republicans will continue to call on the administration to do more, and time will reveal the effects of the increased sanctions, but on Spanish-language networks there is a Wild Wild West feel, with the Biden administration on the wrong end of the shoot-out.
On América TeVé, known locally as Channel 41 to many in Miami, where a recent YouTube title for a segment declared "Ron DeSantis will try to give free internet access to all of Cuba via a satellite," the coverage of Joe Biden was worlds away.
In a song written to chastise and make fun of Biden's approach to the Cuban protests, the singers called him "blind" to Cuba's fight and accused him of "playing dumb" on the world stage.
Fernand Amandi, Obama's former pollster on the Latino vote, told Newsweek it's not surprising that there has been an exploitation of a very emotional moment and the raising of expectations to impossible levels.
"One of the things you're seeing in the media down here is the idea that there is a quick fix, silver bullet that Biden is holding back on that if he were to do it would be the end of the regime and there would be democracy in Cuba the next day," he said.
The tenor of the response to the revolt in Cuba has also taken a dark turn at times, fueled by platforms like Facebook.
Cuban travel agency Cubamax was vandalized with giant red swastikas spray-painted over their logo because of a Facebook video that claimed the owner was the cousin of the Cuban president Miguel Diaz-Canel and the company took direct orders from him. The company was forced to release a letter Monday clarifying that the two men are not related.
"If FOX is saying crazy s**t you can at least turn on MSNBC and figure out what the truth is," former congressman Joe Garcia, whose family fled Cuba, told Newsweek. "But here the fervor has spilled online and turned to xenophobic rightwing craziness."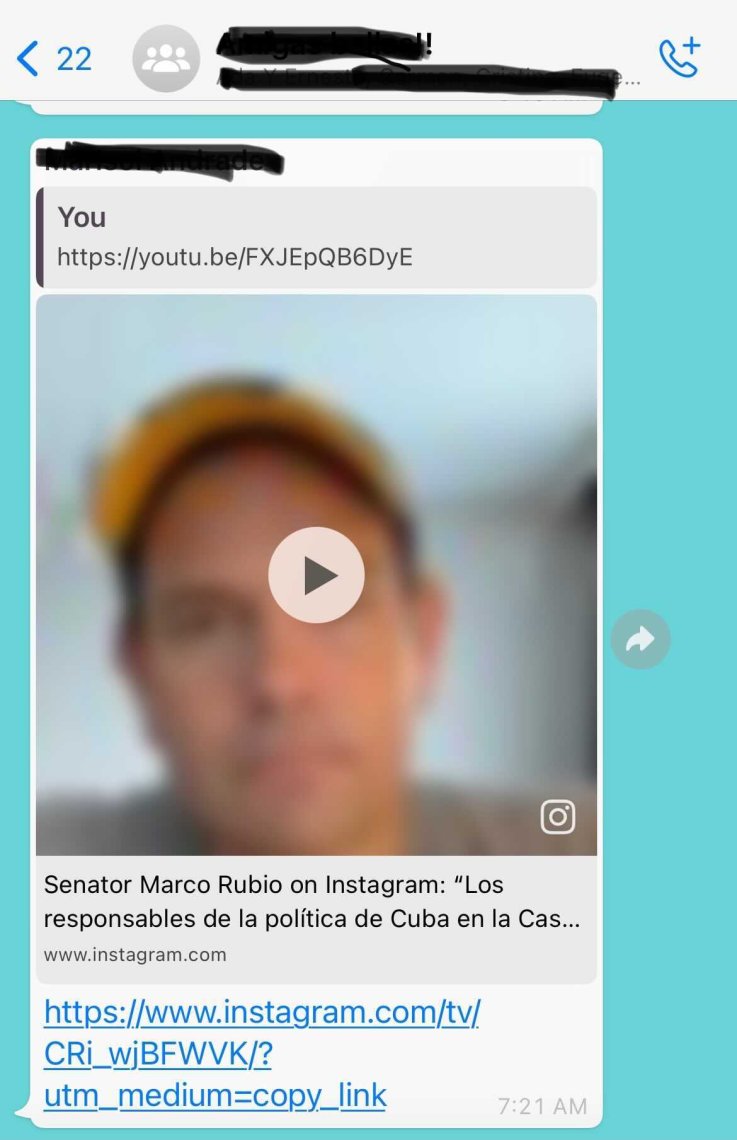 Videos from Marco Rubio slamming the Biden administration are not just being posted on his social media channels, but also being shared through WhatsApp.
Courtesy Evelyn Perez-Verdia
Senator Marco Rubio is among the Florida Republicans who jumped on the Cuba issue immediately after the protests began, attacking the White House and calling for Biden to do more. Democrats say the fractured media environment that sees videos spread wildly on platforms like WhatsApp now includes videos from officials like Rubio as well.
"The narrative is that we as Democrats are trying to do something to favor the regime, instead of supporting the freedom of the Cuban people, so that really pisses me off," said Democratic strategist Evelyn Pérez-Verdía, an expert on Spanish-language disinformation efforts. "We have the same intentions for the Cuban people, but this narrative BS does not help them."
Still, while many Florida Democrats take issue with Spanish-language media coverage in South Florida, some say it is filling the void left by Biden himself, who many have asked to give a speech in Miami addressing Cuba's fight for freedom.
"There's a vacuum from our side and from the top and they're filling in that vacuum with outrageous lies," a Florida Democrat told Newsweek of the unsuccessful efforts to get Biden to come to Miami. "Democrats need something to say that is clear and precise, and the White House needs to move faster."