Florida Democrats Slam Bernie Sanders Because He Won't Call Venezuela's Nicolas Maduro a Dictator, Warn He Could Lose Support to Donald Trump
As Vermont Senator Bernie Sanders begins his campaign to be the Democratic nominee for president in 2020, some Democrats in the key swing state of Florida are refusing to support him.
Their opposition lies in the Senator's stance on Venezuela and its strongman leader, Nicolás Maduro, who continues to cling to power despite widespread opposition to his rule.
Senator Sanders has condemned the crackdown against Venezuela's civil society and acknowledged that the last elections, from which Maduro emerged victorious, were not free or fair. But he has stopped short of condemning Maduro as a dictator, or of supporting Maduro's political rival, Juan Guaidó.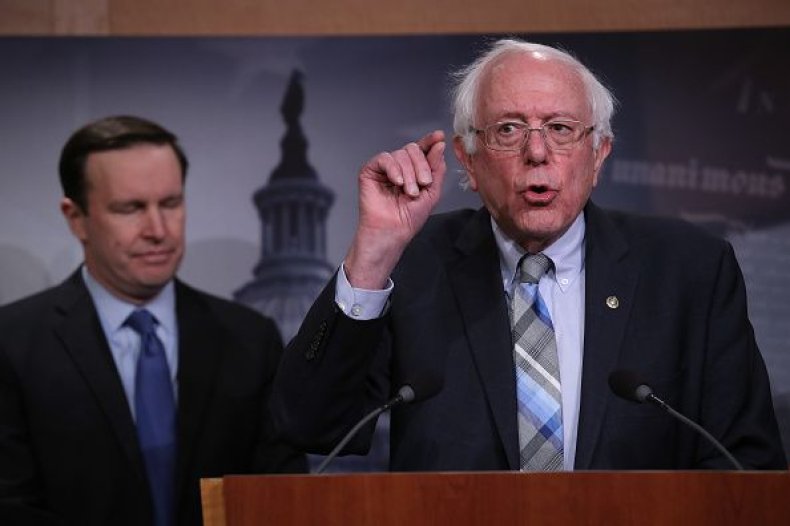 The 35-year-old Guaidó, previously the head of Venezuela's national assembly, has used an obscure part of Venezuela's constitution to name himself interim president until new, fair elections can be held. The U.S., Canada and the governments of most European Union countries have since recognized Guaidó despite the fact that Maduro still controls much of the state apparatus.
But Sanders, who recently announced that he is once again running for president, has taken a more cautious approach to the question of regime change in Venezuela.
"Maduro's violent crackdown on Venezuelan civil society and violations of their constitution are deplorable and unacceptable, and the United States must work with the international community to encourage free and fair elections, and to address the growing humanitarian crisis," a foreign policy adviser for Sanders told Newsweek.
"Bernie strongly supports the right of democratic self-determination, for the Venezuelan people and those across the world. The Trump administration even floating the possibility of military intervention is extremely dangerous and irresponsible, and we should be absolutely opposed to it."
The senator's stance has caused some consternation among Democratic voters in Florida, a state with a large population from Latin America. Donna E. Shalala, a Democratic congresswoman from Florida who has traditionally opposed Sanders's policy positions, called the Vermont senator's stance on Venezuela "regrettable" in a tweet on Friday. "Maduro is a dictator and he should go as quickly as possible," Shalala wrote.
President Donald Trump, on the contrary, has emerged as a vocal opponent of Maduro and an advocate for regime change in Venezuela. In a speech in Florida, he condemned Maduro and hinted that the U.S. might be willing to use military force to remove him from power.
Some democratic analysts said Trump might be able to woo Florida Democrats due to his tough stance on Venezuela. But critics argued that Trump's rhetoric stirred up memories of U.S.-backed coups in Latin America, and that U.S. intervention was not the solution to Venezuela's political crisis.
Ari Rabin-Havt, deputy chief of staff for Senator Sanders, saidthe senator was aware of this checkered history.
"This view represents the long and horrific history of American politicians imposing their will on the people of Latin America," Rabin-Havt tweeted on Friday. "Bernie stands with the Venezuelan people to demand free and fair elections and for self-determination for all people around the world."
Critics of Maduro, however, cited Venezuela's crumbling economy, widespread food and medicine shortages, reports of corruption and money laundering, and accounts of activists being jailed and tortured as reasons Maduro should go.
The Venezuelan strongman responded by refusing to allow humanitarian aid to enter the country. Maduro also recently announced that he would close his country's border with Brazil, a move that would make it more difficult for refugees to flee the country.