Viral Video Shows Florida Deputy Punching Man Handcuffed to Hospital Bed: 'Now You're Going to... Beat my Ass Again'
An investigation has been launched into body cam footage showing a Florida deputy punching a suspect handcuffed to a hospital bed.
Broward County Sheriff Deputy Jorge Sobrino is accused of attacking 26-year-old David O'Connell while he was detained at the North Broward Medical Center on January 1.
The department received a call regarding a domestic disturbance at a Walmart in Pompano Beach, Florida. When Sobrino arrived at the scene, he arrested O'Connell on suspicion of resisting without violence.
Before being taken to jail, O'Connell was sent to the hospital after injuring his wrist while being detained.
After being handcuffed to the hospital bed, the officer's body cam, which is placed on its side, records O'Connell acting in an agitated manner while getting into a verbal altercation with Sobrino.
"Hey, I don't want to be here. I don't want to be here. I wanna sign off!" O'Connell said, reports ABC News.
Sobrino can then be seen closing the door and approaching O'Connell.
"Now you're going to f****** close the door and beat my ass again," O'Connell said. "F*** you! Now you think you're all big now because you're a f****** cop?"
Sobrino then strikes O'Connell on the bed while forcibly bending his arm behind his back.
In his arrest report, Sobrino claims that he hit the suspect after he became aggressive towards him. This is not evident in the footage.
"The defendant intentionally placed his hand on my upper chest against my will and pushed me, therefore committing a battery against my person," Sobrino wrote, reports WSVN.
Broward Chief Assistant Public Defender Gordon Weekes has now demanded an investigation into the incident in a letter to Broward County Sheriff Gregory Tony.
"It shows how brazen and how comfortable he is in using this type of force and that he will use it, even when he knows the camera is running," Weekes wrote. "I think it's very clear that this video shows an abuse of power. He clearly wanted to beat up Mr. O'Connell. What's even worse is that he then manufactured facts in order to arrest him and charge him with battery on a law enforcement officer."
Broward County Mayor Mark Bogen has also called for the deputy to be fired, describing his actions as "unacceptable and outrageous."
"Abuse of power cannot be tolerated. Deputy needs to be held accountable by being fired," Bogen added.
The battery charge against O'Connell has since been dropped.
In a statement, the sheriff's office said: "Our Division of Internal Affairs immediately opened a preliminary investigation after receiving a letter today from the Office of the Public Defender lodging a complaint about use of force during an arrest incident that occurred back on January 1, 2019."
The emergence of the video arrives after two Broward County deputies were recorded body slamming, punching and pepper spraying a 15-year-old boy following an incident outside a McDonald's in Tamarac on April 18.
Both officers have been suspended pending an investigation after the clip of the arrest went viral.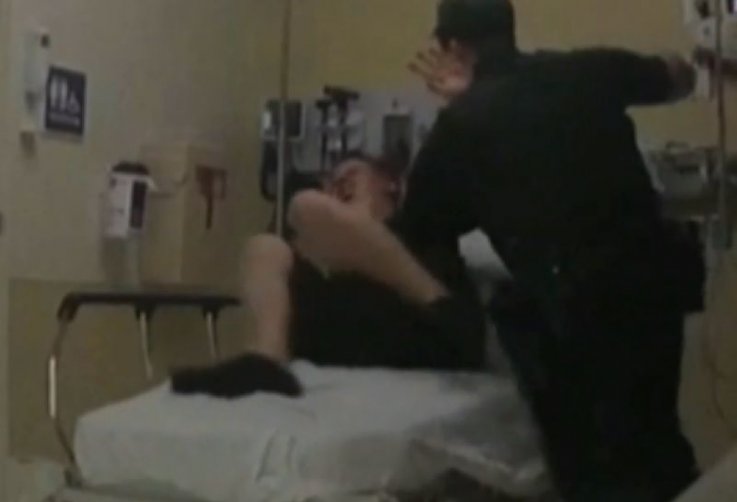 Viral Video Shows Florida Deputy Punching Man Handcuffed to Hospital Bed: 'Now You're Going to... Beat my Ass Again' | U.S.