Florida Deputy Shoots His Family Dead, Kills Himself in Front of Colleagues
A veteran Florida deputy used his last radio message to inform police he had killed three family members and would kill himself, authorities said on Wednesday.
"Today, I stand in front of you with an extremely heavy heart," Hillsborough County Sheriff Chad Chronister told reporters. "Saddened and disheartened about the events that occurred early this morning."
Shortly after 6:30 a.m. on Wednesday, Deputy Terry Strawn, 54, called the Hillsborough County Sheriff's Office main radio channel to say he had "caused harm to his family," Chronister said. Strawn reportedly gave police details about the two crime scene locations and said he planned to kill himself outside Plant City High School.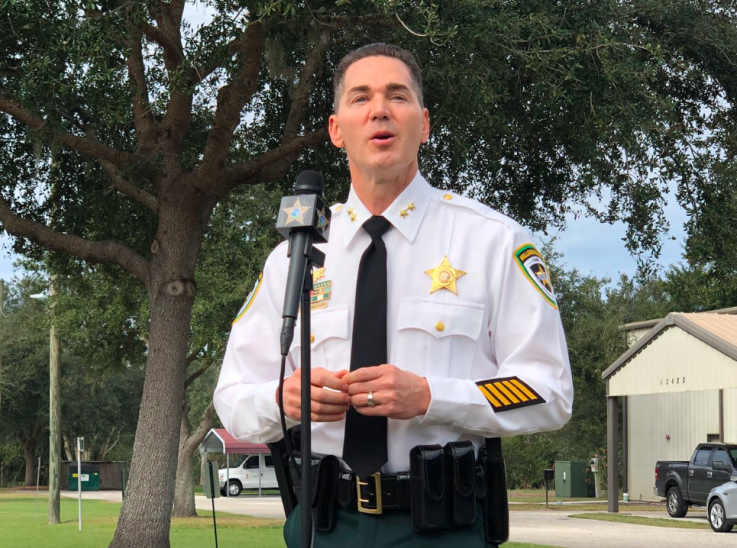 A communication supervisor attempted to talk Strawn out of killing himself, as three other deputies met with him outside of the school, FOX 13 reported. They were unable to convince Strawn not to kill himself.
"Unfortunately the deputy took his own life on scene in front of the three deputies," Chronister said.
Strawn reportedly mentioned health and financial issues during his last radio transmission. "We're not exactly certain what that means," Chronister said. "That will be part of the investigation."
Chronister revealed the three victims killed were Strawn's 54-year-old wife Theresa Strawn, his 32-year-old daughter Courtney Strawn and his 6-year-old granddaughter Londyn Strawn. The sheriff said that a woman and a child were found dead inside one home and another woman was located at a second residence.
Surveillance video at a condo community near Plant City High School shows Strawn walking to his daughter's home and shooting her dead moments later, WFTS reported.
The video reportedly shows Strawn walking towards his daughter's unit with a gun in his left hand. Afterwards, the deputy can be seen stumbling towards his vehicle as he attempts to hide the gun in his pocket.
Strawn began working for the Hillsborough County Sheriff's Office in 1991 and retired in 2017. He was hired full-time as the school resource deputy at his granddaughter's elementary school in July.
The deputy showed "no indication whatsoever" that he would take his own life, the sheriff's office said on Wednesday.
"I am saddened beyond comprehension that one of our Deputies killed three people and then committed suicide. Everyone needs to know that there is always a better option and help available for anyone who is thinking of harming themselves," Chronister tweeted.
In September, another Hillsborough deputy, Kirk Keithley, killed his wife Samantha before turning the gun on himself.
If you have thoughts of suicide, confidential help is available for free at the National Suicide Prevention Lifeline. Call 1-800-273-8255. The line is available 24 hours every day. If someone you know appears to be contemplating suicide, visit Bethe1To.com for assistance.
Florida Deputy Shoots His Family Dead, Kills Himself in Front of Colleagues | U.S.