Florida Doctors Urge GOP to Postpone 'Medically Disrespectful' Convention
Hundreds of doctors in Florida have signed an open letter calling plans to host the Republican National Convention in Jacksonville "medically disrespectful" and a risk to public health.
In their open letter addressed to Jacksonville City Council and Mayor Lenny Curry, the doctors warned that allowing a huge delegation of Republican Party officials, supporters and news media to flock to the city for the convention would be "predictably harmful" amid Florida's battle with an increasing number of coronavirus cases.
The medical professionals also said that hosting the event in Jacksonville would increase COVID-19 hospitalizations among both local citizens and those from outside the state.
The doctors published their open letter just two weeks after GOP Chairwoman Ronna McDaniel announced that President Donald Trump would be accepting the party's presidential nomination in Jacksonville. The official nominating process will still take place in Charlotte, North Carolina.
Writing to Mayor Curry, the Florida doctors said: "Allowing this number of people to descend on Jacksonville is unequivocally provocative of disease, predictably harmful, and medically disrespectful to the citizens of this city, much less the rest of the country. There will be increased hospitalizations, long-term health problems, and deaths.
After saying that poorer Americans, the elderly, and first responders would be most affected by an increased spread of COVID-19, the doctors added: "It is extremely dangerous and contrary to current public health recommendations to stage a large event in an area where the number of cases is surging.
"The RNC should be postponed or very significantly reduced in numbers because of these risks."
The medical experts also advised Jacksonville officials to require attendees to wear face masks and socially distance before the convention is set to take place later in the summer.
Newsweek has contacted Mayor Curry's office for comment. This article will be updated with any response.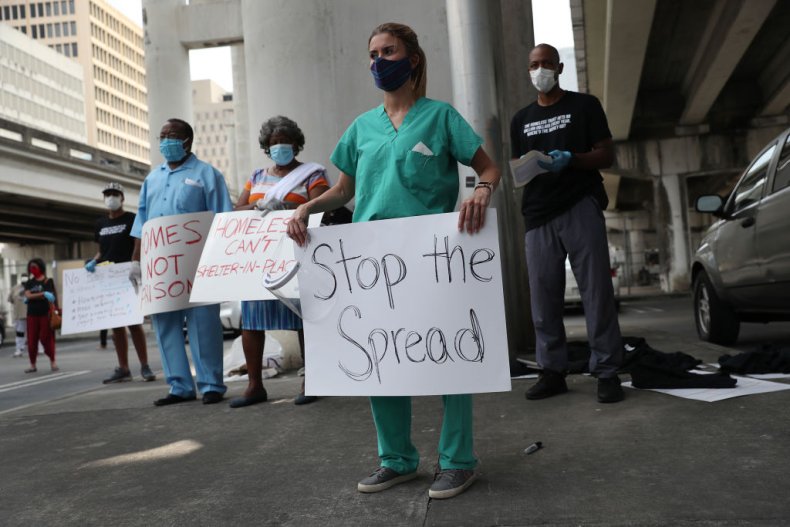 An RNC spokesperson said: "The RNC looks forward to holding a safe event in Jacksonville to celebrate the re-nomination of President Trump and Vice President Pence. There will be safety precautions in place that will be adapted based on the situation at the time of the event.
"These include but are not limited to temperature checks, available PPE, aggressive sanitizing protocols, available COVID-19 testing, and regular phone calls and coordination with federal, state, and local health officials. More details will be announced in coming weeks."
Republican Party officials sought a new venue for the bulk of the Republican National Convention celebrations after North Carolina officials did not commit to permitting the GOP to pack out an arena in contravention of COVID-19 guidelines.
A poll commissioned by an anti-Trump group last week found that a plurality of Jacksonville adults did not want the Republican National Convention coming to their city in two months time.
Almost half of surveyed voters (49 percent) said they did not support the proposed event taking place in their city, while 39 percent backed the plans. A further 12 percent had no opinion on the matter.
Florida reported close to 27,000 new COVID-19 cases in the course of three days at the end of last week, with two record daily increases recorded between Friday and Sunday.
The graphic below, provided by Statista, shows the number of confirmed COVID-19 cases in the U.S. by state.