Bleeding Florida Dog Found Wandering Streets With Mouth Taped Shut in Disturbing Pictures as Police Hunt Owner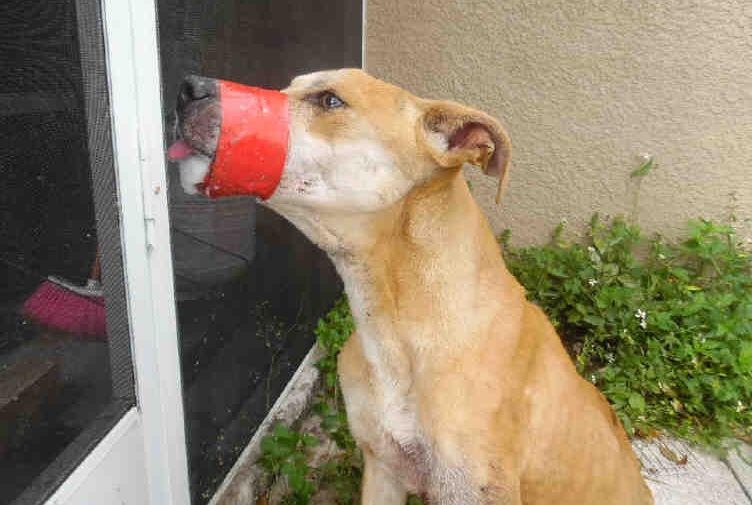 Florida police are searching for a suspect who taped shut the mouth of a dog which was found wandering the streets, bleeding and malnourished.
Lee County Domestic Animal Services said they received a call on February 26 from a concerned citizen in the Lehigh Acres area who had discovered the male Florida Cur.
Lee County Sherriff's office said in a statement that the dog had its mouth taped shut and was panting, drooling and suffocating. The dog appeared to be dehydrated, malnourished and bleeding from wounds on its left front leg and chest. The dog has been examined by a veterinarian and is currently recuperating at Lee County Domestic Animal Services.
Police are now appealing for help to find the animal's owner.
"I can tell you right now, as your sheriff, I will not tolerate this in any way, shape or form," Lee County Sheriff Carmine Marceno said in a statement.
"No person is going to abuse an animal in this county, and I want to be crystal clear on that. You duct tape a dog's mouth shut, to me, there's only one place for you and that's behind bars.
"I can tell you this, it starts this way, this is a steeping stone. A person that's able to do this to an animal later on can most possibly do this to a human being. So what we need is the citizens to also help us—if you see something, you say it, you make the call."
Anyone with any information regarding the dog, the dog's owner or the mouth taping incident is asked to call either the Lee County Sheriff's Office at (239) 477-1000 or submit information anonymously to Southwest Florida Crime Stoppers at 1-(800) 780-TIPS.
Tips may also be made online at www.southwestfloridacrimestoppers.com or by submitting a tip on the P3Tips mobile app.
Under Florida state law, a person who owns an animal and is found to have intentionally caused unnecessary pain or suffering can be prosecuted with aggravated animal cruelty, a felony of the third degree.
Those convicted of the offense face a maximum of five years in jail and a $10,000 fine. A person convicted of this offense a second time will face a minimum fine $5,000 and serve a mandatory minimum jail term of six months.