An amendment to a Florida bill that seeks to ban discussions of sexual orientation or gender identity in the state's schools would forcibly out students to their parents, according to a lawmaker.
The Parental Rights in Education bill has been dubbed the "Don't Say Gay" bill by critics, who say it will marginalize LGBTQ children and families.
The bill states that school districts "may not encourage classroom discussion about sexual orientation or gender identity in primary grade levels or in a manner that is not age-appropriate or developmentally appropriate for students." Parents could sue a school district for violations.
The bill prohibits school districts from maintaining procedures that withhold information or encourage students to withhold information related to a student's mental, emotional, or physical health or well-being from parents.
But school personnel may withhold information from a parent if "a reasonably prudent person would believe that such disclosure would result in abuse, abandonment, or neglect."
If that happens, the amendment, recently filed by bill sponsor Rep. Joe Harding, states: "The school principal or his or her designee shall develop a plan, using all available governmental resources, to disclose such information within 6 weeks after the decision to withhold such information from the parent.
"The plan must facilitate disclosure between the student and parent through an open dialogue in a safe, supportive, and judgment-free environment that respects the parent-child relationship and protects the mental, emotional, and physical well-being of the student."
Florida Rep. Carlos Guillermo Smith, a Democrat, took to Twitter over the weekend to denounce the recent amendment to the bill as a "STATE-MANDATED outing of LGBTQ students to parents" that will have "devastating consequences."
The legislation was "already a really bad bill that seeks to erase LGBTQ people from our schools and censors conversations about us," Smith later told Newsweek.
"This new amendment brought forward by the bill sponsor deliberately puts LGBTQ youth in harms' way in order to pander to a small but vocal group of far-right extremists. It creates a new state mandate which requires schools to 'out' LGBTQ students to unsupportive parents against their will, even when doing so would reasonably result in abuse, abandonment or neglect."
He added: "We wish every home was an accepting one and that every young person was affirmed and celebrated by their families.
"Unfortunately, that isn't always the case for LGBTQ youth. They already make up 40 percent of the homeless youth population because they due to family rejection and abuse simply for being who they are. This amendment knowingly subjects children to abuse, abandonment, and neglect by forcing them to come out to their parents before they're ready. It's cruel, dangerous, and it underscores that this bill has no regard for the well-being of Florida's youth."
Harding has been contacted for comment.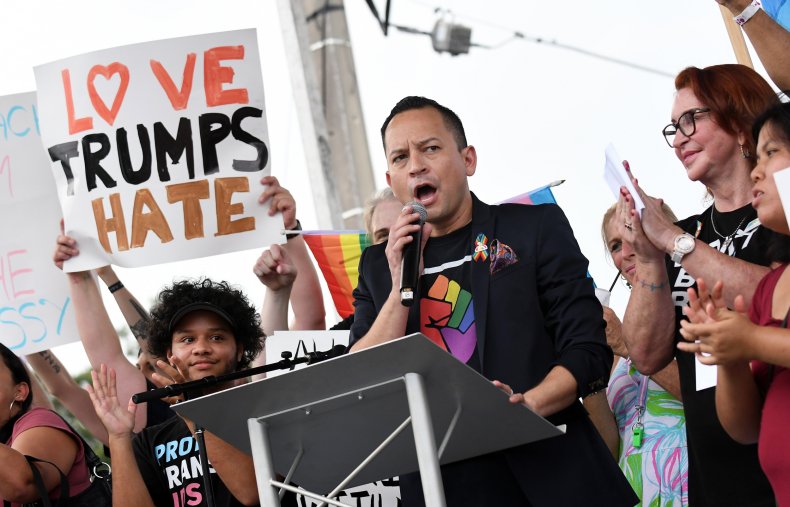 The bill passed through the House Judiciary Committee last week, and will head for debate and a vote on the House floor this week.
Critics have condemned the bill, saying it would effectively erase LGBTQ students and history.
"This bill will erase young LGBTQ students across Florida, forcing many back into the closet by policing their identity and silencing important discussions about the issues they face," said Sam Ames, the director of advocacy and government affairs at the Trevor Project, a suicide prevention and crisis intervention group for LGBTQ+ youth.
"LGBTQ students deserve their history and experiences to be reflected in their education, just like their peers."
"This will kill kids," Chasten Buttigieg, the husband of Transportation Secretary Pete Buttigieg, wrote in a recent tweet that tagged Florida Gov. Ron DeSantis. "You are purposefully making your state a harder place for LGBTQ kids to survive in."
Update 2/22/22, 3:22 a.m. ET: This article has been updated with comments from Smith.