Florida Election Results: Recount Timeline, Updates for Senate, Governor Races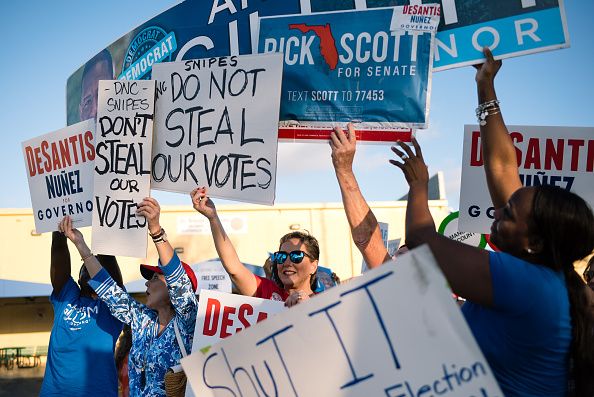 The heated midterm elections still aren't over as razor-thin Senate and governor races in Florida have led to a statewide vote recount, which officials say must be completed by Thursday.
Unofficial results on Saturday showed Governor Rick Scott leading his Democratic challenger, Senator Bill Nelson, by 12,500 votes, or 0.15 percent—well under the 0.5 percent threshold needed to trigger a recount.
The results for the state's gubernatorial election between Republican Ron DeSantis and Democrat Andrew Gillum showed DeSantis ahead of his opponent by about 34,000 votes, or a lead of 0.41 percent.
Recounts were also ordered for races in the state legislature and for Florida's agriculture commissioner. Democratic commissioner candidate Nikki Fried holds only a 0.06 percent lead over Republican Matt Caldwell.
"Florida has never had a full statewide recount. It's about to have three," Andrew Weinstein, national chairman of the Democratic Lawyers Council, wrote on Twitter shortly after the unofficial results had been released. "Buckle up," he said.
All counties in Florida have been given until Thursday at 8 p.m. ET to complete the recount, but the election supervisor in Palm Beach County told CNN that the deadline was "impossible" to meet. Election officials have 8.5 million votes to recount.
If a county does not submit its recount results by the deadline, then the numbers that they already filed at that time take their place. Florida law does not give the secretary of state the power to extend deadlines, but individual campaigns are likely to file lawsuits for extensions.
After these recounts, any race that remains within a margin of 0.25 percent or less will have another three days to conduct a manual recount, with a deadline on Sunday, November 18.
The next big step in the recount is a hearing that will be held on Wednesday in Tallahassee, where a federal judge will consider a case regarding how to handle counting the state's provisional and mail-in ballots.
President Donald Trump, who stumped for Florida's Republican candidates in the weeks leading up to the midterms, tweeted on Monday morning that the election "should be called in favor of Rick Scott and Ron DeSantis, claiming that large numbers of new ballots showed up out of nowhere, and many ballots are missing or forged. An honest vote count is no longer possible-ballots massively infected. Must go with Election Night!"
Despite claims from Trump, Scott and Florida Senator Marco Rubio, election experts and law enforcement have said there was no evidence of fraud.