Florida ER Doctor Charged Parents $50 for 'Opt-Out' Mask Mandate Letters for Kids
An emergency room physician in Tallahassee, Florida, was removed Tuesday for allegedly charging $50 for opt-out letters to parents who didn't want their kids to wear masks in school.
Dr. Brian Warden reportedly posted on a statewide anti-mask site that he would provide exemption letters to school mask mandates. One post announced he would give the letters to interested parents, and a follow-up message from Warden on the same site indicated he would write the medical letter on signed stationery for $50.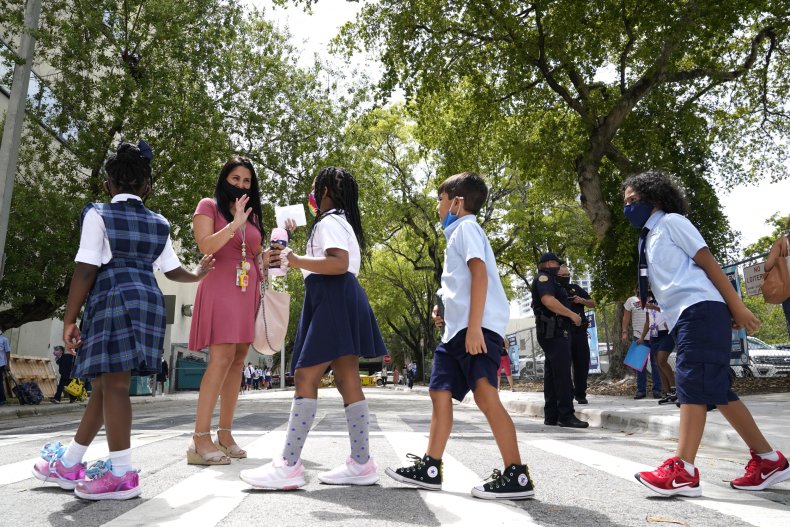 Screenshots of Warden's posts were shared around on social media, according to the Tallahassee Democrat. The newspaper reported that the posts were met with a huge backlash online, with many people calling for Warden's ouster from his position as an ER doctor at Tallahassee's Capital Regional Medical Center. (CRMC).
The hospital's CEO informed the board of trustees of the decision to remove Warden at their already-scheduled meeting on Tuesday night.
According to the Democrat, Warden moved to Tallahassee from Philadelphia recently after completing medical school. He was hired by a physicians group that contracted with CRMC and other hospitals in the region.
Warden had also been posting on his personal Facebook account regarding opt-out letters. He noted on the platform that he was signing the opt-out forms as a licensed medical doctor and not doing so in affiliation with any hospital.
The social media outcry against Warden built quickly on Monday. The day before, the school district in Leon County, where Tallahassee is located, announced a mask mandate.
Leon Schools Superintendent Rocky Hanna said Sunday that students in grades K–8 must wear a mask while in school unless they provide a medical excuse. The county has experienced a surge in COVID-19 cases recently, and hospitals have seen a large increase in patients sick with the virus. One student of Leon County's Canopy Oaks Elementary School died over the weekend from COVID.
The Leon County school board voted 3–2 to back Hanna's decision, which the Tallahassee Democrat said could result in punishment—such as the withholding of funds—from Florida's Department of Education.
The school district serves around 34,000 students. The Democrat also noted that 337 students have reported having COVID-19 and around 1,000 were quarantined.
According to a recent poll from Quinnipiac University that was released Tuesday, 60 percent of Floridians support requiring students, teachers and staff to wear a mask in school. Thirty-six percent of respondents to the poll said they do not support such a mandate.
"We act with absolute integrity in all that we do, and it is our expectation that providers behave in a way that is consistent with those values," CRMC said in a statement provided to Newsweek. "Immediately upon learning of this physician's actions, we began the process of removing him from providing services to our hospital patients."
When asked if Warden was "removed" or if his contract was terminated, CRMC responded, "We contract with a third party provider."
Correction 8/25/2021 3:17 p.m. ET: A previous version of this article said that Warden was fired; CRMC has responded that he was not fired, he was "removed." It was also reported that the hospital's CEO requested the board vote on removing Warden; the CEO did not make this gesture, but instead the CEO informed the board of trustees of the decision to remove Warden. The updated version of this story also contains a statement from CRMC.