Florida to Fine Businesses $5,000 for Requiring Vax Proof as State Sued Over High COVID Rates
Legislation penalizing businesses, schools or other public institutions in Florida with fines of $5,000 for requesting proof of vaccination from patrons is set to go into effect on September 16, just as COVID rates in the state reach red alert status.
Florida is already facing multiple lawsuits for this measure and another banning mask mandates, which have been widely condemned by health officials who report Florida is one of five COVID-besieged states with less than 10 percent left of state ICU bed capacity.
The Florida Department of Health said in a rule issued last Friday that violators of the vaccine proof law can appeal, but must pay within 30 days if the penalty is finalized.
Republican Governor Ron DeSantis signed the law in early May, citing a need to prevent "government overreach."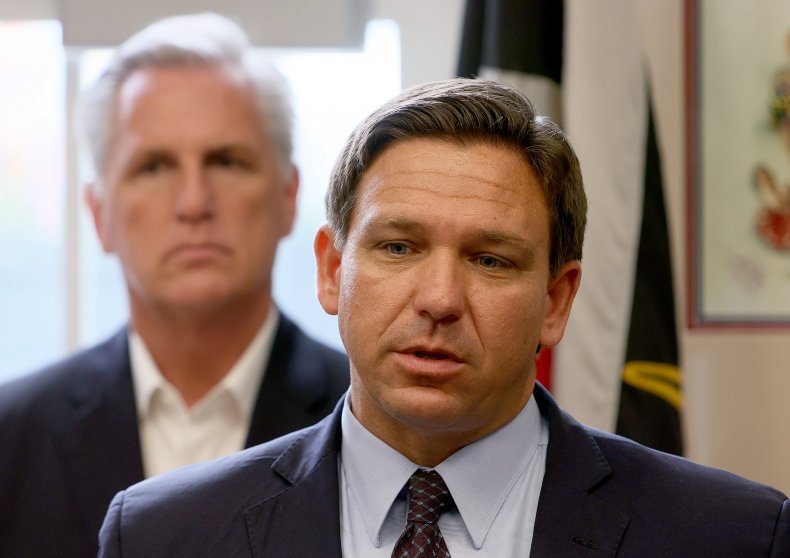 "Over the last year, we've avoided protracted lockdowns and school closures in Florida because I have refused to take the same approach as other lockdown governors. This legislation ensures that legal safeguards are in place so that local governments cannot arbitrarily close our schools or businesses," DeSantis said in May.
Some businesses are fighting against or disregarding the law, such as Norwegian Cruise Line, which a federal judge said was justified in requiring customers to show proof of vaccination before boarding a ship. Judge Kathleen Williams said in her ruling that the ban was unconstitutional on the basis that it violates freedom of speech.
DeSantis' press secretary, Christina Pushaw, defended DeSantis' policies on Twitter.
"For some reason Florida's ban on vaccine passports really triggers the BlueAnons. I don't get it. If they want to carry their medical history everywhere and show their papers at McDonald's, no one is stopping them," she said.
Newsweek reached out to the Florida Department of Health for comment but did not receive a response in time for publication.
Florida's Agriculture Commissioner and DeSantis' Democratic gubernatorial opponent, Nikki Fried, said in a statement that the law is merely political posturing and "not only goes against common sense—it's also an insult to the free market principles he claims to champion."
"(DeSantis) has made it abundantly clear that he's more interested in getting revenge against Floridians who are trying to do the right thing than he is in stopping the spread of COVID or supporting our local businesses," Fried said.
Two counties in Florida have had to shut down schools completely because of the COVID-19 spread. Last month, the Florida Hospital Association reported a peak of more than 17,000 COVID hospitalizations, most of which were unvaccinated patients.