Florida Flood Warnings As Fort Lauderdale Airport Closes Due to Severe Weather
Flood warnings are in effect for Florida, South Carolina and Georgia following heavy rainfall overnight, resulting in the closure of Fort Lauderdale-Hollywood International Airport (FLL)
According to its Twitter account, FLL has closed due to "severe rain and flash flooding." In its latest advisory, the airport says: "The entrance roadway to FLL is now open, and passengers are being allowed into the terminals. Flight operations have not yet resumed but are expected to shortly." Passengers affected or planning to travel from FLL are advised to follow updates on social media or visit its website.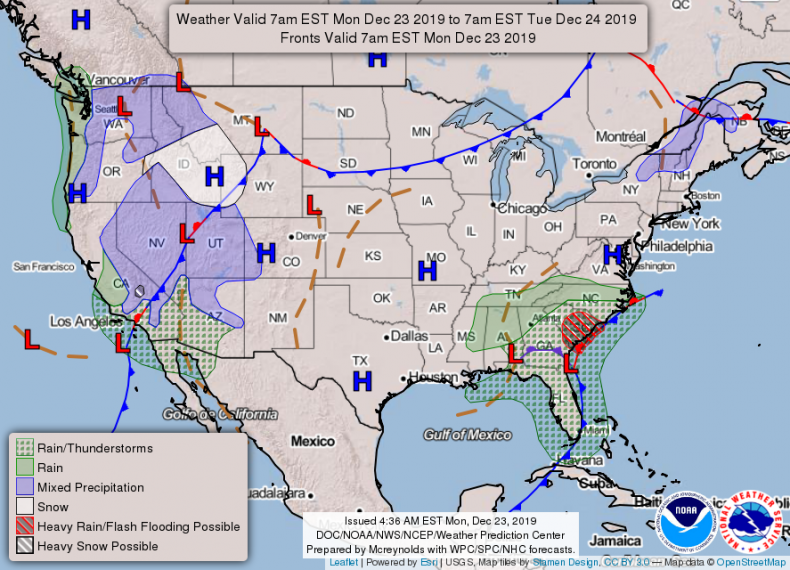 The National Weather Service's (NWS) forecast for Florida says heavy showers and thunderstorms will "drench" the state throughout the morning, moving east. Showers will continue into the afternoon and it will become dry by tomorrow.
According to NWS, local law enforcement in Miami has reported urban flooding in Hollywood, Dania Beach and Fort Lauderdale. Its alert also says that the Hollywood Water Plant Cooperative Observer reported 8.80 inches of rain in the last 24 hours.
A warning is also in place for Shoal River near Crestview, Okaloosa County, as recent heavy rain has caused rises along the river. The warning is in effect until tomorrow night—at 7:00 p.m. local time. Yesterday the stage was 6.9 feet and the flood stage is 8 feet. It is expected the levels will rise to 9 feet by tomorrow morning.
Other rivers at risk of flooding include Apalachicola River near Blountstown, affecting Calhoun, Franklin, Gulf and Liberty Counties. At 7:15 p.m. local time yesterday the stage was 17.1 feet, which sits just over the flood stage of 17 feet. NWS forecasts that the river will continue to rise to near 17.8 feet by Thursday morning. Residents of Forest Road 115 in Liberty County at River Styx Campground are advised the level will rise 18 feet, isolating access to the site.
The NWS has also issued a flash flood watch through this morning for portions of southeast Georgia and southeast South Carolina. Areas that are expected to be affected include Bulloch, Candler, Effingham, Jenkins and Screven in Georgia and Allendale, Beaufort, Charleston, Coastal Colleton, Dorchester, Hampton and Berkeley in South Carolina.
In its latest watch alert, NWS writes that a "strong storm system" is expected to produce another three to six inches of rain tonight Christmas Eve. The lower South Carolina coast carries the highest risk for flash flooding, which can occur quickly in low-lying and poor drainage areas. The risk is further elevated due to high tides today.
NWS advises that people should be prepared to "protect life and property" in areas prone to flooding. If flooding does occur, residents should move to higher ground immediately and drivers should turn around if they come across flooded roads.