College Student Donates $1,300 Worth of Groceries From His Meal Plan to Local Food Bank
"One night it just hit me: I had the means to help people," said Florida Tech senior Roland Hesmondhalgh, who donates his leftover funds every spring.
College students routinely complain about the food on campus. But one undergrad is using the extra money on his meal plan to provide thousands of dollars in groceries to a nearby food bank.
Roland Hesmondhalgh, a graduating senior at Florida Institute of Technology in Melbourne, Florida, was unhappy that all the leftover Flex Dollars from the school's required dining plan was going back to the university at the end of every school year.
But Flex Dollars can also be used at an on-campus convenience store. So rather than letting his funds evaporate, Hesmondhalgh decided to spend the money on groceries and then donate them all to the South Brevard Sharing Center, which provides food, clothing and financial assistance to area families in need.
That first spring, in April 2017, he donated nearly $1,200 in groceries.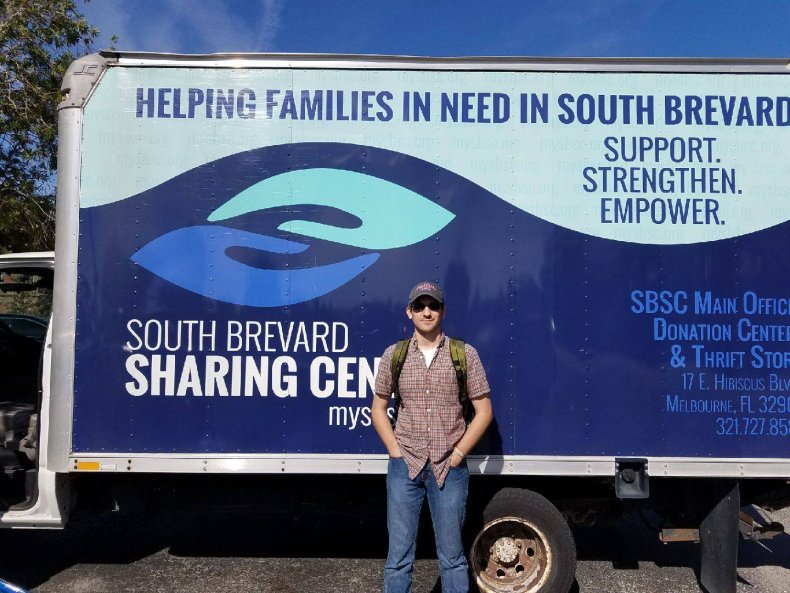 He's continued his charitable shopping spree every spring since: This year Hesmondhalgh donated nearly $1,300 worth of cereal, rice, canned fruit, peanut butter and other nonperishable items.
"The staff in the cafeteria and campus market prepare for a stampede of students to come in and buy things like toilet paper or hot pockets en masse," he tells Newsweek. "It's when I come in with a work dolly and ask if they have 40 cans of Campbell's soup that they start to worry."
According to Hesmondhalgh's reporting, most students with the Flex plan have several hundred dollars remaining each spring. But so far, he hasn't been able to convince any classmates to follow his example.
"Each time I've donated I've asked the driver if there have been any other donations from Florida Tech. Two years on, and I'm still the only one, unfortunately."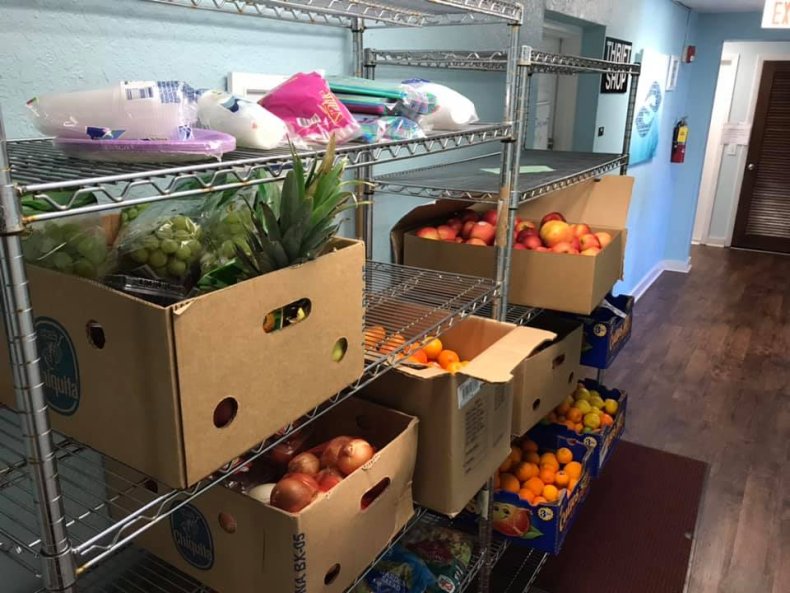 Hesmondhalgh has also tried to get the university to donate leftovers to food kitchens rather than throw them out. But apparently the school hasn't wanted to on the liability.
His mother, Lisa, says she's not surprised at her son's good deeds.
"It's a family trait to either attract or seek out situations needing solutions," she told Newsweek. "I was proud of him. I am proud of him. [Roland] wants to make a difference—or at least try like hell to do so."
But Hesmondhalgh says his motivation wasn't entirely altruistic.
"While getting my teaching certification, I worked with a nearby elementary school that was appallingly underfunded... I knew there was a need in the area. That sort of merged with the callous indifference some of the students and I were feeling from the university. Whether it was being nickel-and-dimed, like with the meal plans, or being referred to by our I.D. numbers instead of actual names, things gnawed at me. One night it just hit me: I had the means to help people. I could help families that didn't even have food for their kids—and simultaneously spite the university."
Whatever fueled his contributions, they've been life-savers: The South Brevard Sharing Center has a monthly budget of about $1,000 to provide food and clothing to some 200 families. In one trip, Hesmondhalgh can more than double that.
Every time he donates, he says, "the food bank has responded with a mix of gratitude, relief, and disbelief."
"Even now, it's as though they can't believe it isn't a prank. But each time they've sent the same driver, and each time he's practically giddy with the amount of food he takes back. He's like a food Santa in a rusty white van."