Florida Officers Charge Georgia Gang With Kidnapping Alabama Man, Driving Him From Bank to Bank to Cash Bad Checks
Police in Florida have charged two men with kidnapping after they allegedly forced another man to cash bad checks.
Courtney Ayers and Tabias Wimby, from Atlanta, Georgia, refused to let a man from Alabama out of their car on July 19, Florida's Okaloosa County Sheriff's Office said in a statement.
Ayers, 39, and Wimby, 23, drove the 45-year-old victim to several banks and made him attempt to cash fraudulent checks, the force stated.
Okaloosa County Sheriff's Office did not release the full name of the individual, who is from the city of Helena, a suburb of Birmingham, but identified him as "Parks" in a Facebook post. NBC affiliate WJHG reported he was named "Paul Parks."
Recalling the incident, the victim told the Okaloosa County Sheriff's Office that Ayers and Wimby approached him at the Fort Walton Beach Landing Park recreational area on Brooks Street, which features a 700-ft waterfront, a boardwalk, fishing pier, boat ramps, a playground a stage and a gazebo.
The pair asked Parks if he was seeking work, and he replied that he was. The suspects asked the man to show them his identification and a bank card. After the victim presented Ayers and Wimby with the documents, they took photos of them. Parks then got into a car with the pair.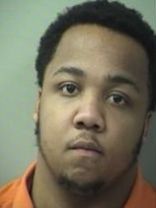 The men told Parks he wasn't wearing the appropriate clothing for the job, and took him to a thrift store in Destin, around a 10-minute drive away from the park in northwestern Florida.
Next, the suspects took him to a branch of Regions Bank in Destin. They handed him a check and told him to deposit it in his personal account. A member of staff told Parks the check would not clear until the next day.
Parks was told "he belonged to Ayers," and the suspects would take him to Atlanta, around 300 miles and a five-hour drive away, while they waited for the money to enter his account.
Ayers and Wimby then took Parks to a Bank of American branch in Destin to cash another check. Parks started to feel worried about the situation, and didn't try to put the check through, he told officers. But Ayers responded by warning Parks he knows where his family lives.
Parks tried to get out of the car, but Ayers and Wimby wouldn't let him. Instead, they took him to a third Bank of America branch and ordered him to go inside.
The victim alerted a teller in the bank of the situation he found himself in.
The staff member jumped into action to help Parks, locking the doors and calling the police. Ayes and Wimby then fled the scene.
Law enforcement released a description of Ayers and Wimby, as well as their car. A deputy spotted a car and men matching the description and carried out a traffic stop.
Police charged Ayers and Wimby with kidnapping.
"The investigation remains active and additional charges are pending," Okaloosa County Sheriff stated.
It was unclear how much the checks were worth.