Florida, Georgia Residents Wake Up to Hail-Covered Streets Wednesday, Trenton Appears to Have Snow [Photos]
Residents of Florida and southern Georgia woke up Wednesday morning to what looked like snowy streets. There were severe thunderstorm threats across the states Tuesday night and into Wednesday that brought the risk of hail and some areas were seeing the results the following morning.
"We had multiple reports of hail last night across South Georgia and parts of the Florida Big Bend early this morning," said the National Weather Service office in Tallahassee.
One small town saw significant hail accumulation and the public safety department shared photos of it online. So much hail fell that it actually looked like it had snowed in the area and the crews were out with bulldozers to clear the mess before residents got up and had to go to work.
"Use caution during your morning commute through the City of Trenton streets!!! There are areas of heavy ice on the roads. City of Trenton Public Works is out working hard to clear the worst areas. These guys don't get the recognition they deserve, out working in the wee hours of the morning in these bad conditions! Thank you Public Works crews!" said a Facebook post from the City of Trenton Public Safety Department.
Newsweek subscription offers >
The department shared photos of the storm's results to its Facebook as well and residents were commenting their disbelief and thanks to the department.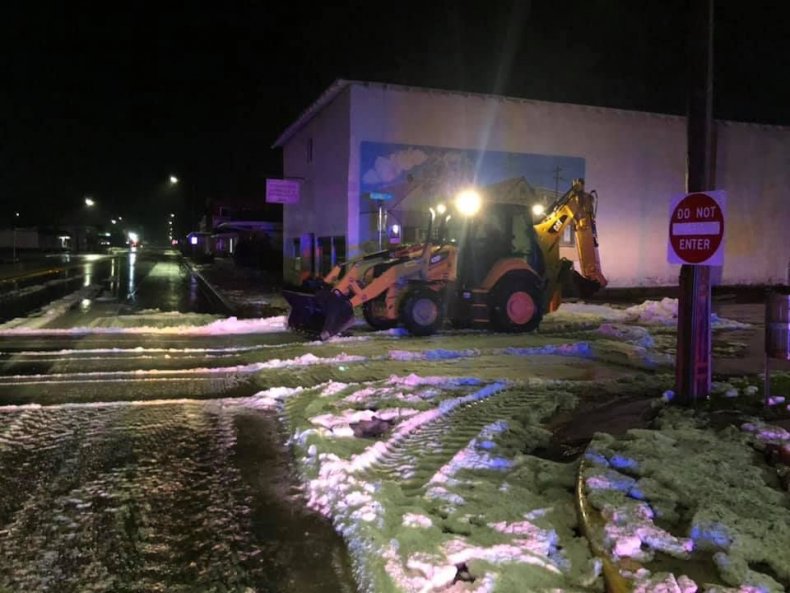 The Doerun Police Department in Georgia also shared photos of the hail. The photo captions from a posts around midnight described the hail as pea-sized and showed it accumulated on the side of the Highway 133 in Georgia.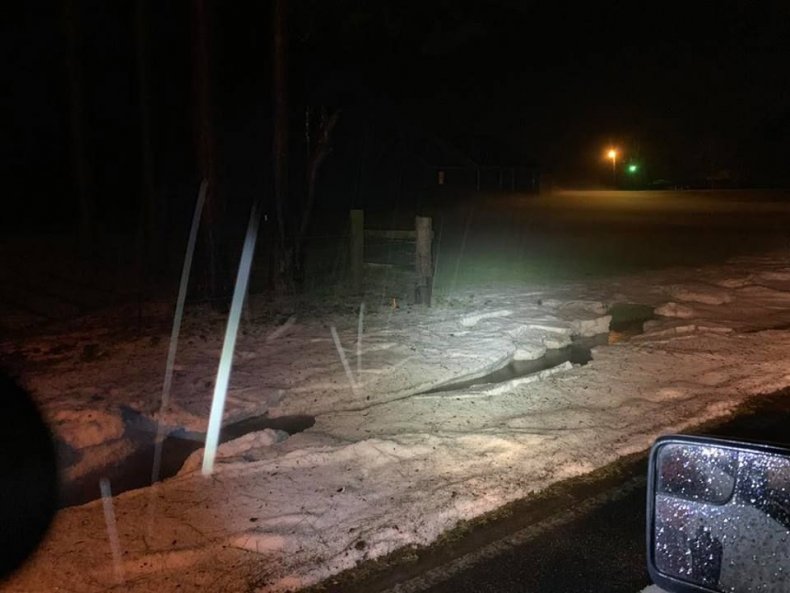 Newsweek subscription offers >
Hail forms in thunderstorms when there are updrafts of warm air and downdrafts of cold air occurring at the same time, according to the NWS. Those updrafts can bring water high into the storm where they freeze and then resume falling. But they can cycle through this rise and fall several times before making it to the ground, becoming larger in size each time they make another trip up and gain another layer of ice.
This is why hail can be so damaging, it increases in size and falls from a great height, meaning it also accumulates speed as it falls. For the piece of ice to be considered hail, it has to be a minimum of 5 mm, according to the NWS.
There were no thunderstorm of tornado threats in the Georgia and Florida area as of 9 a.m. EDT Wednesday morning, meaning the chance for more hail was over, at least for the time being.
Florida, Georgia Residents Wake Up to Hail-Covered Streets Wednesday, Trenton Appears to Have Snow [Photos] | U.S.