Fact Check: Did Florida GOP Introduce Bill to Eliminate Democratic Party?
Discussion of the divide between Republicans and Democrats has flared in the past month, with the notion of a "national divorce", that would split the country based on its political allegiances, entering the conversation.
A consistent dividing line between the two parties has centered on the culture war.
According to a viral social media post, one Florida Republican appears to have bound these arguments by essentially eliminating the Democrats from the state over its historical ties to slavery, a history the GOP has consistently referenced.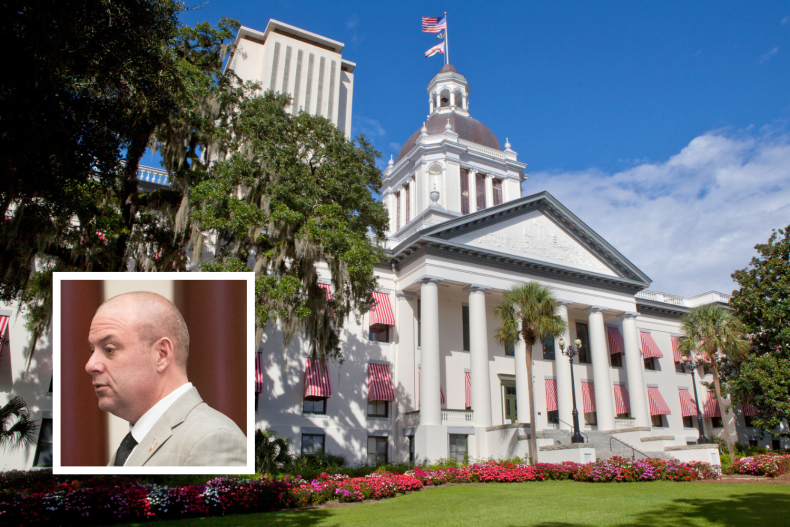 The Claim
A Reddit post, published on February 28, 2023, which has received 82,000 upvotes, stated: "Florida Republicans introduce a bill to eliminate the Democratic Party."
The post included a screengrab of a tweet from Brian Tyler Cohen, which stated "A Republican in Florida just introduced a bill that would ban the Democratic Party from existing in the state. Registered Democrats in Florida would be notified that their party has been 'canceled' and they're now no-party voters."
The Facts
The extension of Florida's powers has been brought to public light this week after Governor Ron DeSantis signed into law a bill that gives the state control over Walt Disney World's self-governing district.
While not dissolving the Reedy Creek Improvement District, the new board will oversee the government services that the Disney district provides. These include fire protection services and utilities. The board will also ensure that Disney's debt is not passed onto Florida taxpayers.
By the basis of this Reddit post about "canceling" the Democratic Party it would appear that Republicans are trying to push for even further measures that would help the GOP establish greater authority.
As reported by Newsweek, the bill, SB 1248, introduced by Republican State Senator Blaise Ingoglia, would require the Florida Division of Elections to "immediately cancel the filings" of any political party that has ever endorsed slavery in its official party platform.
Republicans have previously called attention to the Democratic Party's historic ties to slavery although Democrats have not formally held that position since the 19th century.
A number of comments under the Reddit post, calling Republicans "fascist" and "ironically incredibly undemocratic thing that I've seen all day".
However, looking into the details of the story, the bill appears to have been put forward simply as a means to draw Democrats into the heated conversation around race and American history.
The bill itself is only two pages long and, in a heavy hint to its intended purpose, says it is to be cited as "The Ultimate Cancel Act", a reference to culture war rhetoric.
According to a report by Florida public broadcaster WFSU, Ingoglia said that he wrote the bill by himself, with no backing from DeSantis.
"This is a bill that I wrote, the Governor did not know anything," said Ingoglia. "In fact, I don't know if he knows that the bill has actually been filed."
While the bill has been filed there is no information to suggest that it will be debated by the state Senate, appearing to simply be a political jab to vex the Democrats.
Although clearly not to be taken seriously as a piece of legislation, the bill's wording provides the opportunity for political parties to re-register under the Department of State albeit with a "substantially different" name.
Even noted by Ingoglia himself on Twitter, it had been intended as a swipe.
A tweet by user @Floridaner, posted on March 1, 2023, which stated "This man just single handily trolled an entire state political party.....and they fell for it", was quoted by Ingoglia with the response: "Fact check: TRUE."
The provocation has already been noted by the Democratic party. Speaking to Newsweek on Tuesday evening, a Florida State party spokesman said: "Senator Ingoglia is using his office to push bills that are nothing more than publicity stunts instead of focusing on the issues that matter most to Floridians, such as reforming property insurance, addressing housing affordability, and combating climate change."
Ron Filipkowski, an attorney who frequently criticizes the GOP, also tweeted: "Another ridiculous stunt from a party full of ridiculous performance artists. FL State Senator introduces bill to ban the Democratic Party since it was once for slavery 160+ years ago."
The reaction to this stunt has nonetheless disturbed some, as noted by the comments on platforms like Reddit, even though there appears to be no serious discussion that it will be passed.
Florida has been at the centre of discussions surrounding America's racial history, after it rejected a College Board AP course on African American studies.
In a letter dated January 12, 2023, from the Florida Department of Education's Office of Articulation (seen by Newsweek), the course was rejected due to what it said were issues with its content.
Newsweek has reached out to Ingoglia for comment.
The Ruling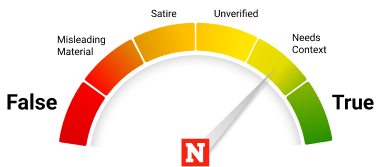 Needs Context.
A bill has been introduced that in effect might force the Democratic Party to re-register in Florida if it was enacted.
However, as noted by its author and Republican opponents, it is not meant to be taken seriously as legislation, and its purpose was to make a political point.
The bill's author agreed with someone who characterized it as trolling; the Democratic Party described it as a publicity stunt.
FACT CHECK BY Newsweek's Fact Check team