Florida GOP House Speaker Tells Fellow Members That State's COVID-19 Deaths Are Inflated
Florida's GOP House Speaker Jose Oliva sent a memo to fellow House members on Tuesday suggesting that the state's COVID-19 death toll is inflated.
Oliva's report was commissioned by House staff members and looked into the deaths caused by the new coronavirus, which is released by the state's department of health and criticized the data, suggesting that all deaths are counted as coronavirus-related deaths if a positive COVID-19 test is found.
According to the South Florida Sun Sentinel, the report found that among 13,920 reported COVID-19 deaths as of September 23, the virus was listed as an underlying cause for 11,460, accounting for 82 percent. The reported also noted that 1,204 deaths listed COVID-19 as one aspect causing the death, but not the only underlying cause and another 1,254 listed the virus as a contributing factor that increased the likelihood of the death, but not the cause.
Overall, 60 percent of the death certificates provided by the state's department of health had reporting errors and the analysis noted that the deaths did not abide "to the national standards for completion of death certificates in general and guidelines for COVID-19 related deaths in particular."
"Precision in data is imperative, not just for proper decision-making, but also for public confidence and consistency of response," Oliva wrote in the memo along with the analysis. "The great disparity of perspective between the political parties has been further exacerbated by the loosening of process and fidelity to established norms in classification. Our leaders cannot build upon the soft-footing of compromised data."
The report also noted that "Certifying the cause of death is an expression of a medical opinion, and clinicians can disagree about a diagnosis or a cause of death."
"It is possible that pandemic conditions led to more death certificates being completed by physicians or medical examiners who had limited knowledge of the patients and by officials facing significant workload pressures," Oliva's report added, according to the Sun Sentinel.
Oliva's report also criticized the Centers for Disease Control and Prevention and its guidelines to include all deaths in which a positive COVID-19 test is found in the death toll.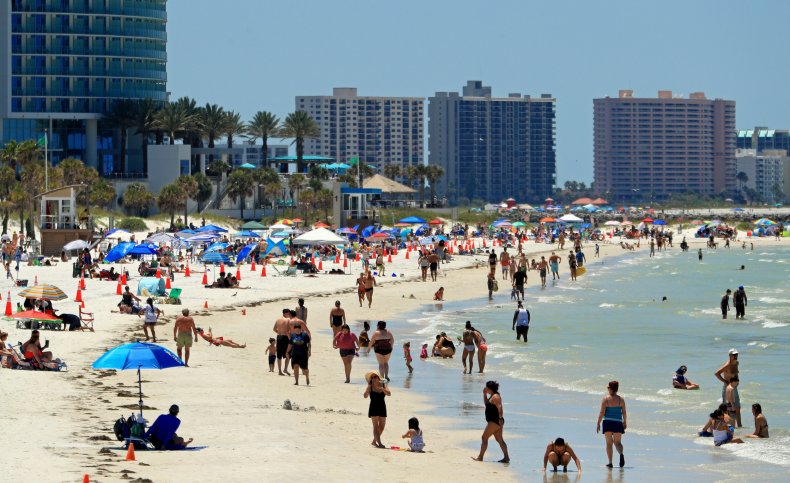 "Any 'current' count of COVID-19 deaths is more accurately described as the number of people with COVID-19 who died, rather than those who died from COVID-19," the report said.
In Florida, there are currently over 741,000 positive coronavirus cases as well as at least 15,595 deaths, according to data released by the state's department of health.
In response to the report, Oliva faced backlash from Florida Democrats and Dr. Joshua Stephany, who is the chief medical examiner for two Florida counties.
"Number one, I don't need a politician to tell me how to do my job," said Stephany, according to the Sun Sentinel. "And as far as over counting or undercounting…I think in the long run, it evens out."
The Sun Sentinel also reported that Democratic Rep. Evan Jenne, said that the report "does nothing to alleviate any situation," while Rep. Amy Mercado said, "It's basically to downplay the death toll, and it's a slap in the face to the families that are actually dealing with this."
Newsweek reached out to Oliva and the Florida's House of Representatives for comment but did not receive a response in time for publication
Florida GOP House Speaker Tells Fellow Members That State's COVID-19 Deaths Are Inflated | U.S.