Florida GOP Officials Criticized Online for Resolution Mocking Columnist's Immigrant Background
Columnist Isadora Rangel left her job at Florida Today to begin writing for the Miami Herald this week, and the GOP commissioners of Brevard County took her departure as an opportunity to mock her. They created and debated a sarcastic resolution applauding her work as the publication's lone opinion writer, and appeared to take aim at her immigrant background.
Rangel moved to the United States from Brazil in 2006 and is a U.S. citizen, according to The Washington Post. However, this didn't stop the Brevard County commissioners from creating the resolution.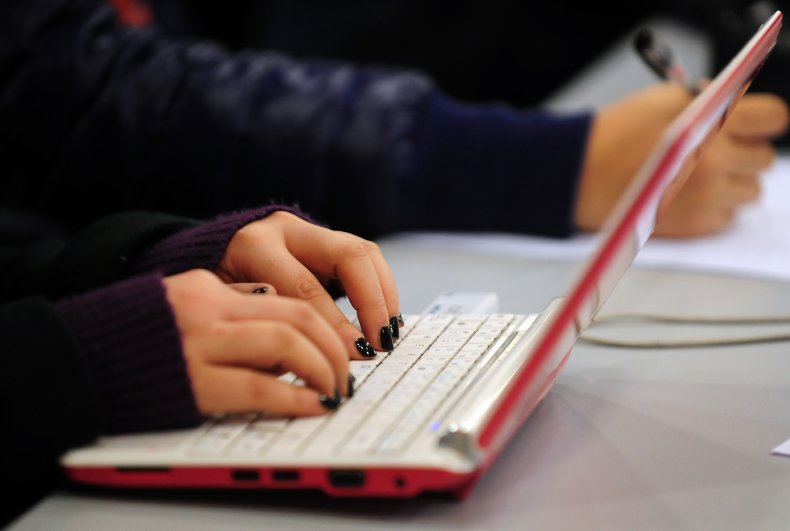 "Whereas because of her eloquent prose the circulation of Florida Today dropped only 16 percent during her tenure," commissioner John Tobia said during the commission meeting on February 9, according to the Post.
Tobia continued: "Whereas her dedication to Brevard is exemplified by her accepting a position with the Miami Herald a mere three years after coming here. And whereas her liberal views will be sorely missed by the Brevard Democrats alike."
Commissioner Bryan Lober also took a swipe at Rangel during the meeting. "Whereas throughout her employment with Florida Today, Ms. Rangel never once let the fact that she's forbidden from voting in this county deter her from commenting on ... politics and criticizing numerous elected officials," he said.
The commission even offered to frame the amendment for Rangel. They named it the "Resolution honoring Florida Today Reporter Isadora Rangel," and it passed 5 to 0.
Lober defended the resolution in an email to Newsweek on Monday night. "I supported the underlying resolution because Rangel's job should have been to report the news, not to contort it to fit a recurring, prejudiced, agenda," he said. "Rangel is known as invariably partisan as she has a reputation in the community for regularly attacking only one side of the aisle."
Rangel, who was frequently critical of the commission during her time at Florida Today, described the resolution as "telling people to go back to where you came from and you can't say anything about America because you were born in a different country."
Rangel said someone emailed her the video from the commission's meeting. "It says more about them than it says about me," she added, according to the Post. "Is that really what government is about? Is it the job of an elected official to use his official position to go on personal tirades and issue attacks against people?"
Rangel also took to Twitter to comment on the amendment's tone. "When the Brevard County Commission passes a resolution 'honoring' you, taking up the public's times and a commissioner makes a bunch of xenophobic comments because you got under their skin," she wrote, alongside an image of Tina Fey's Liz Lemon high-fiving herself.
Others online lambasted the Florida GOP officials involved in the amendment, calling it "racist" and "repulsive."
"The racist, childish scumbags wasting tax dollars to attack a columnist they didn't like," writer and We've Got Issues podcast host Joshua Holland wrote, listing those involved in the resolution.
HuffPost writer Erick Fernandez chimed in: "The GOP is an irredeemable party."
"Repulsive but representative of the Trumplican party: GOP elected officials mock an editorial writer for being an immigrant. I get this all the time," said Washington Post columnist and CNN analyst Max Boot.
"Petty acts of official bigotry during time that should have been devoted to solving the problems of the people," writer Matt McGiver tweeted. "This is Donald Trump's GOP."
Community advocate Amy Tidd called the incident "shameful."
"Pay attention to your local politics, folks," a Democratic leaning Twitter account posted, adding: "There are villains in every area that need to be removed from office."
"GOP is more shameful by the day! Now Florida GOP politicians are using their official platform for racist 'resolutions' - this is NUTS," one user responded after seeing the article circulate on Twitter.
A communications director for Brevard County declined Newsweek's request for comment. We also reached out to all the GOP commissioners involved in the resolution for comment. This story will be updated with any responses.
Updated 2/15/2021 8:22 p.m. EST: This article has been updated to include comment from Brevard County District 2 Commissioner Bryan Lober.