A Florida school superintendent reiterated his beliefs that being part of the LGBTQ community is a "personal choice" at a school board meeting on Tuesday.
"She asked me do you believe a gay person, I can't remember all the language, 'Do you believe it's a choice or are they born with it?' I said that it's a personal choice," Bay County School Superintendent Bill Husfelt told WMBB-TV about a question Cindy Wilker, president of the LGBTQ Center of Bay County, posed to him.
Wilker originally asked Husfelt about his beliefs at a Republican roundtable dinner. On Tuesday, she asked him again: "Do you believe that being gay, lesbian, bisexual or transgender is a personal choice?"
Husfelt replied, "You did ask me that. I said yes."
Wilker went on to ask him what evidence he relied on to support that belief before listing a number of organizations she herself uses. Husfelt replied: "God."
Husfelt said the "politically motivated personal question" was "set up as a political pawn to try to get me to say something or do something that would cause some controversy."
"This is not a set-up," Wilker told Newsweek in an email. "He could have said 'no comment.' He could have said many things. He chose to invoke God as his source and authority about the nature of gender and sexuality."
In a Facebook video posted Tuesday night, Husfelt defended his beliefs again and said they do not impact the way he works as an educator.
"As a Christian, it's not my place to judge and I believe we have been commanded to love God and love each other," he said. "I'm sure many of you have personal beliefs of your own that do not dictate your behavior in the workplace or the way you respect others or treat others."
Wilker said that if she were given the opportunity, she would have asked his opponent Judy Vandergrift, who is running for Husfelt's seat, the same question. Wilker said she thinks Husfelt has not made efforts to improve the lives of LGBTQ students in the district.
"He's had 12 years to make things better for the LGBTQ community. He hasn't done that," she said.
Husfelt has held the position of school superintendent of Bay County since 2008. He said his beliefs on sexual orientation have never affected his work as an educator and leader.
"I love all students. It doesn't mean that I'm anti-student because someone might be gay or something like that. I'm not. You won't find where I've ever treated anyone unfairly. We have gay alliance clubs in many of the schools," Husfelt said.
However, Wilker thinks Husfelt's personal beliefs impact his decisions as superintendent.
"He believes homosexuality is a sin. How could that not affect his perception of gay, lesbian, bisexual and transgender students?" Wilker told Newsweek. "Many former students and teachers have commented on the [WMBB] video, and MANY have reached out with stories about the negative impact Bill had on their lives."
Husfelt told Newsweek he was "very shocked" to learn his religious beliefs have raised questions on his track record as an educator.
"I respect the freedom of religion that we have in this country and I don't see that as a campaign issue at all," he said.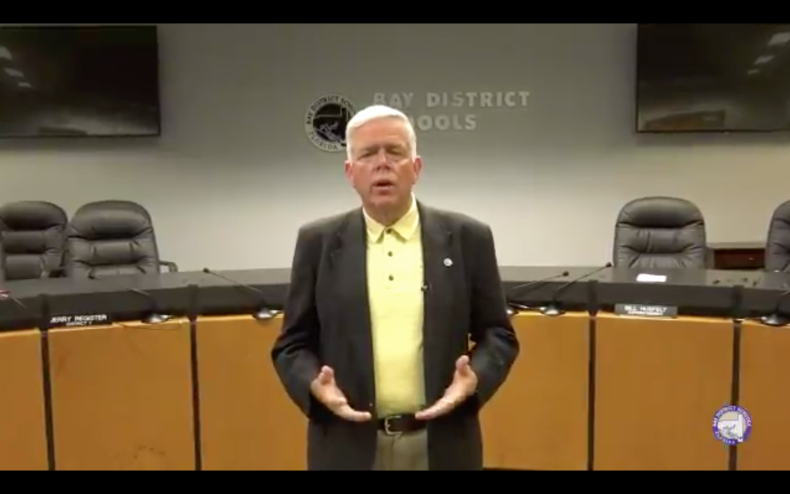 Wilker said more can be done so that "every child to feel valued and affirmed."
She said schools should bring in guest speakers, such as individuals from LGBTQ organization Equality Florida Institute.
"It's absolutely free of cost, Dee Palazzo and Nadine Smith, proud graduate of Rutherford High School, have put together this program that has been in 65 of the school districts in the state of Florida. Bay District Schools has refused," Wilker said.
Equality Florida Institute's Safe and Healthy Schools Program is dedicated to making schools more inclusive of LGBTQ students and aims to combat bullying, harassment and isolation of these students.
As of 2018, the organization has worked with 60 school districts across the state and met with 22 superintendents.
According to information from the Equality Florida Institute, Bay County is one of four districts that have not received any LGBTQ professional development.
Husfelt said he asked members of his team to meet with Equality Florida back in 2018 and that they had come up with a plan to train social workers and guidance counselors in the community. Things had not been finalized when Hurricane Michael hit, which he said resulted in schools pivoting their focus to aiding homeless students.
The superintendent said his team aimed to reconvene on this professional development this spring, but the coronavirus pandemic has since put the issue on hold as schools scramble to reopen next month.
Students in Florida are expected to return to schools in August despite the ongoing global health crisis. Bay County will also be providing virtual schooling for parents who do not want to send their children back to in-person classes.
Husfelt said he thinks there is more outreach that can be done for LGBTQ kids but that he is focused on greater outreach to all students, not just those in the LGBTQ community. He said FEMA funds have provided the county's school with additional mental health help that "will help so many kids, no matter the circumstances they are facing."
Forty percent of LGB students have seriously considered suicide, compared with 10 percent of non-LGB students, according to a 2017 survey from Equality Florida. LGB students were also reported to be over four times more likely to make a plan and attempt suicide.
Update 07/16/20 5:25 p.m. EDT This story was updated with comments from Husfelt and additional comments from Wilker, as well as statistics from Equality Florida's survey.