Florida Gov. DeSantis Pauses as Heckler Yells During Presser: 'You Are Doing Nothing, Shame on You!'
A heckler interrupted a Monday press conference by Florida Governor Ron DeSantis, criticizing him for his response to the coronavirus outbreak in the state.
As DeSantis began speaking, he was interrupted by the heckler, who yelled, "Shame on you, you are an embarrassment. We're getting record-breaking cases every day, and you are doing nothing."
The man continued, "You are falsifying information, and you are misleading the public. Over 4,000 people have died, and you are blaming the protesters. You guys have no plan."
He went on, "You are doing nothing, shame on you," shortly before being escorted out of the press conference.
In a post to Twitter, user Thomas Kennedy said he was the one who interrupted the press conference.
"I just interrupted a press conference in Miami-Dade to let governor @RonDeSantisFL and @MayorGimenez know they are an embarrassment to FL and that their incompetence and lack of planning has resulted in the current public health crisis. 4,381 people have died so far in FL," Kennedy wrote.
In a statement sent to Newsweek, Kennedy said he wanted to tell DeSantis and Miami-Dade County Mayor Carlos Gimenez that their response to the ongoing pandemic was "abysmal."
"They closed too late and reopened too early, and now while other states and countries are getting through this we are worse than ever. Meanwhile, our governor misleads the public, does not have a plan, and every decision they make is politically motivated. We deserve better," Kennedy's statement said.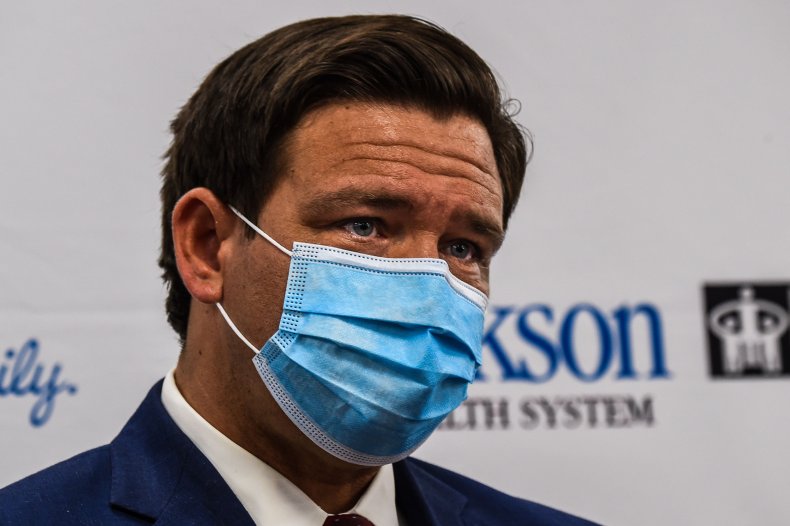 The incident comes as coronavirus cases continue to surge in record numbers throughout Florida. On Saturday, July 11, the Florida Department of Health recorded the state's largest single-day increase in cases, with over 15,000 new cases reported. The state now has over 282,435 confirmed cases and 4,277 deaths, the department said.
The surge in cases has caused the state to impose stricter restrictions, such as banning the sale of alcohol in bars, in an effort to curb the virus's spread.
Kennedy's interruption of DeSantis' press conference is not the only criticism he has received for his response to the outbreak. Florida Agriculture Commissioner Nikki Fried recently released a statement suggesting that DeSantis "has lost control of Florida's COVID-19 response."
"His policies are simply not working, and he's recklessly reopening Florida despite the data screaming for caution. Refusing to acknowledge the alarming patterns in cases, hospitalizations, and positivity is not only arrogant but will cost lives, public health, and our economy," her statement said.
Fried continued: "To our citizens, I implore you to wear masks and continue social distancing—and just because a place is open doesn't mean it's safe to go there. To our local governments, please encourage your residents to stay home, mask up, and socially distance. If the governor is unwilling to make the right decisions, then they must be made in our cities, our states, and our homes. We are in this together, and I will continue fighting on behalf of all Floridians."
Newsweek reached out to DeSantis' office for comment but did not receive a response in time for publication.