Florida Gov. DeSantis Suggests COVID Death Toll Is Inflated, Blames Alleged Test Errors on 'Testing Industrial Complex'
Florida Governor Ron DeSantis raised questions about the state's coronavirus figures on Thursday.
During a Fox & Friends interview, he discussed erroneous test results and suggested Florida's COVID-19 death toll was inflated. DeSantis also told the program's hosts an investigation is underway to evaluate both sets of possible inaccuracies.
"There was a report in Orlando a week or so ago, where you had someone in a motorcycle accident [die], unfortunately," the governor recalled. He said the motorcyclist's death was categorized as one of the 5,500 reported in relation to the novel coronavirus outbreak in Florida, "just because the person had previously tested positive."
DeSantis continued: "I think the public, when they see the fatality figures, you know, they want to know, 'Who died because they caught COVID?"
He went on to tell Fox & Friends hosts that Florida "had other instances" where deaths could have been misclassified as virus-related and subsequently included in the state's COVID-19 fatality reporting.
"So, we want to look at that and see how pervasive that issue is," he added.
DeSantis also addressed reports of false test results during Thursday's interview. He proposed a "testing-industrial complex" was responsible for the recent wave of Florida residents who say they received positive virus diagnoses without taking a test.
"There's a testing-industrial complex now," the governor said. "There's a lot of money at stake here...people cranking out these tests. There's private companies involved."
DeSantis asked any Florida residents who were not tested for COVID-19 but received positive results from testing sites to share documentation of their diagnoses with the government.
"We want to hold people accountable if they're engaged in funny business like that," he said.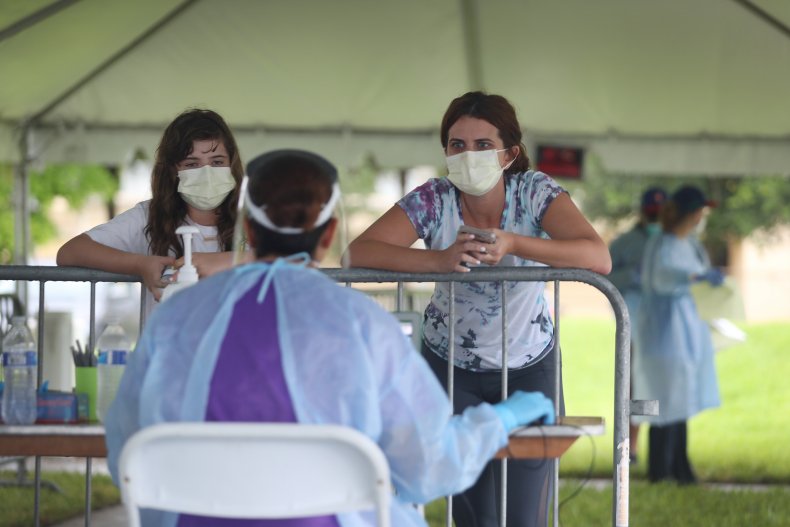 The Sun Sentinel cited comments from the Florida Department of Health (DOH) when claims about false-positive results began to surface earlier in July. The newspaper's report noted that anecdotes appeared on social media the same day Florida's health department reported a new record increase in COVID-19 infections.
"At this time, we have not had any reports of individuals receiving results from the site without being tested. Results are distributed via labs and questions about false results should be directed to the appropriate testing lab," the Florida DOH said at the time, according to Sun Sentinel.
Florida has experienced one of the most severe outbreak resurgences in the U.S. this summer. The latest data released by Florida's DOH shows nearly 390,000 people have tested positive for COVID-19 since the pandemic began. The vast majority of recorded infections, roughly 325,000, were reported after June 1.
Newsweek reached out to DeSantis' office and the Florida Department of Health for comments, but did not receive replies in time for publication.