Florida Gov Refuses to Answer Question About John Lewis' Death
At a Saturday press conference, Republican Gov. Ron DeSantis of Florida refused to answer a question about civil rights leader Rep. John Lewis' (D-Ga.) death.
"We saw last night Congressman John Lewis passed away. He's a civil rights icon. You know, this is happening amidst heated conversation in this country about race, monuments, flags," the unidentified reporter asked, segueing into speaking about a recent vote to remove a Confederate memorial, according to the Tampa Bay Times.
"All right, yeah. I appreciate the question, but we're trying to focus on the coronavirus. I appreciate it, but I'm going to let someone ask about—do you have a question about the topic at hand?" DeSantis interrupted before calling on another reporter.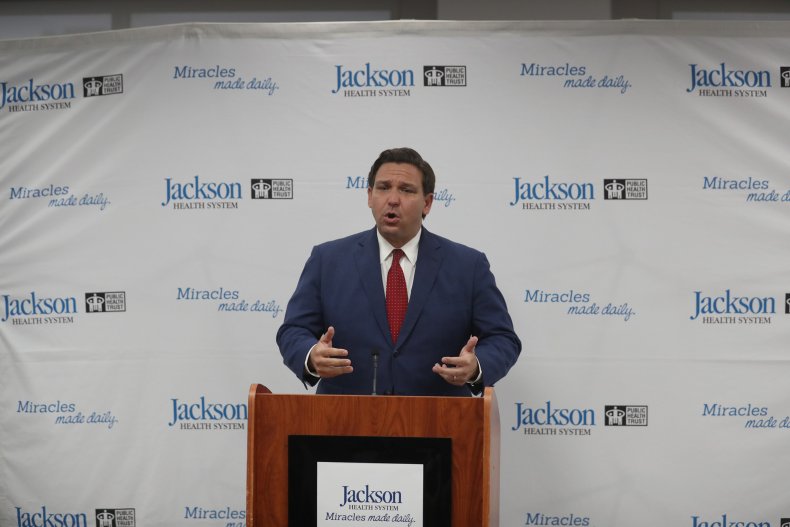 Lewis died late Friday evening at 80 from pancreatic cancer. He was a leader of the 1960s civil rights movement and marched with Dr. Martin Luther King, Jr. In a 1965 protest for Black voting rights in Selma, Alabama, state police attacked Lewis and fractured his skull.
He joined the House of Representatives in 1985, representing Georgia's 5th District.
Lewis famously sparred with President Donald Trump, choosing to skip Trump's January 2017 inauguration, and said Trump was an illegitimate president.
"I don't see this president-elect as a legitimate president," Lewis said a week before the inauguration on Meet the Press. "I think the Russians participated in helping this man get elected and they have destroyed the candidacy of Hillary Clinton."
Trump responded at the time by tweeting that Georgia's 5th district was "crime-infested" and "in horrible shape and falling apart," calling Lewis "all talk ... no action."
During the impeachment hearings in late 2019, Lewis spoke passionately in favor of impeaching Trump.
"When you see something that is not right, not just, not fair, you have a moral obligation to say something, do something," Lewis said. "Our children and their children will ask us: 'What did you do? What did you say?'"
On Saturday, Trump shared a brief tweet in memorial of Lewis' passing.
"Saddened to hear the news of civil rights hero John Lewis passing. Melania and I send our prayers to he and his family," Trump wrote.
Earlier that day, the head of the Congressional Black Caucus urged Trump not to say anything about Lewis' death. Rep. Karen Bass (D-Calif.) asked the president to "Please let us mourn in peace," saying that the statement from White House Press Secretary Kayleigh McEnany was sufficient.
"Rep. John Lewis was an icon of the civil rights movement, and he leaves an enduring legacy that will never be forgotten. We hold his family in our prayers, as we remember Rep. John Lewis' incredible contributions to our country," McEnany wrote on Twitter.