Florida Gov. Ron DeSantis 'Looks Forward' to Signing Bill Requiring Approval to Defund Police
Republican Florida Governor Ron DeSantis has said that he "looks forward" to signing an "anti-riot" bill recently approved by the state's congress.
The Florida Senate passed the bill, HB 1, on Thursday. It will give legal immunity to people who drive through protests and keep arrestees from posting bail until their first court appearance.
It will also require any community seeking to reduce its police force's funding to first get approval from a state administration commission. Additionally, it removes legal exemptions that allowed non-profits to solicit and block traffic on city streets.
Furthermore, it makes any city that restricts police from protecting property civilly liable for bodily and property damages. It also enhances penalties for anyone arrested "in furtherance of a riot" or who damages a historic monument, including Confederate monuments.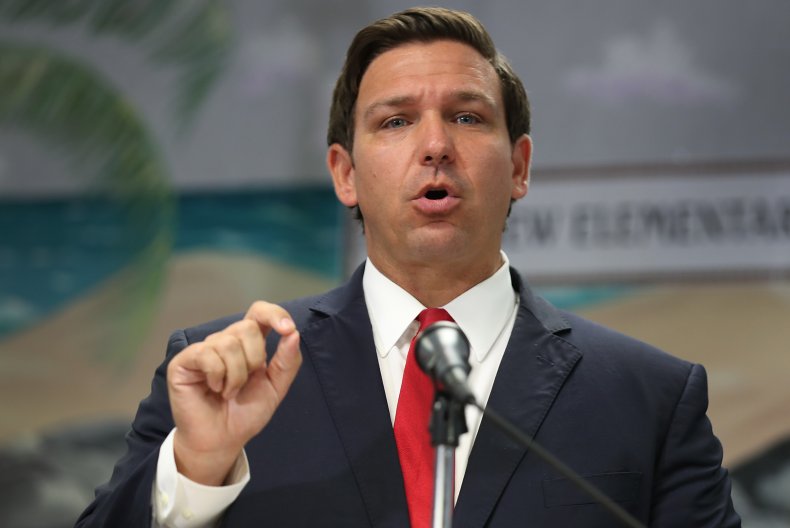 DeSantis spearheaded the bill after last year's Black Lives Matter protests. He re-stressed the need for its passage after the January 6 insurrection at the Capitol.
The governor praised the state legislature for "upholding" free speech rights while also "protecting businesses and supporting our brave men and women in law enforcement," in a statement released Thursday.
"This legislation strikes the appropriate balance of safeguarding every Floridian's constitutional right to peacefully assemble, while ensuring that those who hide behind peaceful protest to cause violence in our communities will be punished," the statement continued. "The Governor looks forward to signing HB 1 into law."
Florida's congressional Democrats opposed the bill, fearful that it will restrict peaceful protests and First Amendment rights. On Thursday, Senate Democrats tried adding amendments to water down the bill. Republicans defeated all attempted changes.
Local activist groups such as March For Our Lives, Dream Defenders, Florida Student Power and United We Dream also oppose the bill. They allege that the law is vaguely written, will criminalize political rallies and will disproportionately target communities of color, WUFT reported.
"This bill is very much an attack on Black and Brown organizers and protesters in the state, because, you know, during the summer we saw a mass of people making their voices heard, and that really scared elected officials," Alyssa Ackbar, state director of March For Our Lives, told WCTV.
Ackbar accused DeSantis of pushing HB1 through the legislature rather than addressing the issues that compel people to protest in the first place.
Hillsborough County State Attorney Andrew Warren told WTXL, "This bill creates a potential for widespread abuse. Under this definition, if you have a large group of people where only three of them do something bad, everybody else there is participating in a riot."
Newsweek contacted the Florida Democratic Party for comment.