Florida Gov. Ron DeSantis Threatens to Withhold Pay of School Boards Who Require Masks
Florida Governor Ron DeSantis' office announced Monday that the Florida Board of Education may act to withhold the salaries of school board officials who choose to go against the governor's executive order and require facemasks in schools.
On July 30, the Republican governor issued an executive order banning mask mandates in Florida's schools. And in a statement made by his office on Monday, DeSantis seemed to pressure superintendents and school board members, saying "Education funding is intended to benefit students first and foremost, not systems."
"With respect to enforcing any financial consequences for noncompliance of state law regarding these rules and ultimately the rights of parents to make decisions about their children's education and health care decisions," DeSantis' office said in the statement, "it would be the goal of the State Board of Education to narrowly tailor any financial consequences to the offense committed."
"For example," the statement continued, "the State Board of Education could move to withhold the salary of the district superintendent or school board members, as a narrowly tailored means to address the decision-makers who led to the violation of law."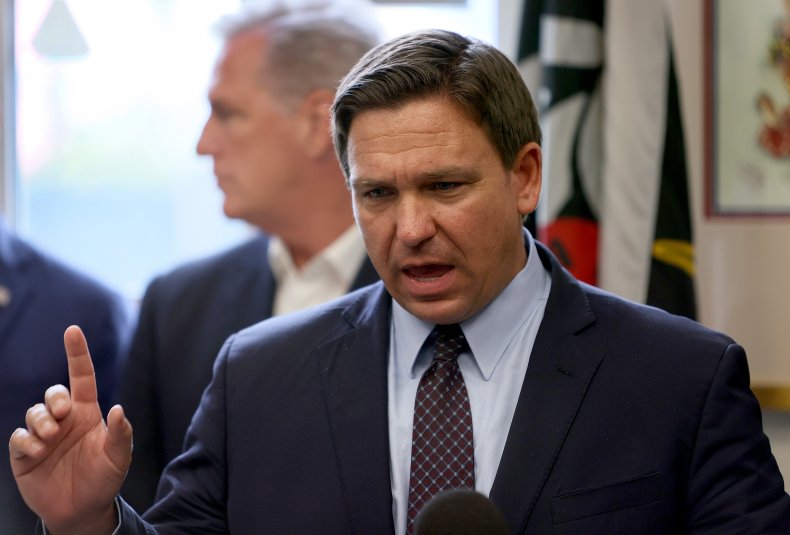 Shortly after DeSantis' office issued its statement, Alberto M. Carvalho, superintendent of Miami-Dade County Public Schools, replied with one of his own, saying, "We have established a process that requires consultation with experts in the areas of public health and medicine. We will follow this process, which has served us well, and then make a final decision. At no point shall I allow my paycheck; a small price to pay considering the gravity of the issue and the potential impact to the health and well-being of our students and dedicated employees."
In response to questioning from Newsweek about the governor's reaction to Carvalho's statement, Christina Pushaw, a spokesperson for DeSantis said, "I don't think Miami-Dade has enacted an unlawful policy. As far as I know, Miami-Dade is giving parents the choice to opt out of the mask mandate, so this particular superintendent has nothing to worry about – if that's still the case."
Even after DeSantis issued his statewide ban on mask mandates in schools, some school districts announced they still planned to require mask-wearing, at least temporarily, according to CDC guidelines and in light of Florida's highest-ever COVID-19 case numbers.
"In light of dramatic increases in local COVID cases and hospitalizations, including among children, the School Board has voted to require masks for students for the first two weeks of school," Alachua County Public Schools tweeted on August 3, three days after the executive order.
Duval County Public Schools issued its mask mandate after parents and teachers protested outside school district headquarters with signs and chants asking the board to issue a mask mandate. The board reportedly agreed to issue a mask mandate. However, any parent can opt their student out by filing paperwork, in what appears to be an effort to comply with DeSantis' order.
Leon County Superintendent Rocky Hanna has reportedly asked DeSantis for special permission to allow a temporary mandate in his district.
"One size doesn't fit all 67 counties and 2.6 million students. Just as you stand up for the sovereignty of the state of Florida from federal mandates and executive orders, I too must advocate on behalf of my community and my school children," Hanna wrote in a letter to the governor.
It is not yet clear what changes DeSantis' Monday announcement will prompt if any.
Updated 08/09/2021, 7:40 p.m. ET: This story has been updated to include a statement from a spokesperson for Governor DeSantis.