Florida Gov. Says State Will Remain Open Despite Nearing 1 Million COVID Cases
Florida Governor Ron DeSantis said state residents will not have to contend with any additional pandemic-inspired lockdowns as the U.S. continues its battle with the novel coronavirus.
The Republican governor spoke against implementing any additional lockdowns or a statewide mask mandate during a Monday news conference at Boggy Creek Elementary School in Kissimmee as the state stood on the cusp of surpassing 1 million total COVID-19 infections since the start of the pandemic. By Monday, November 30, only two states—California and Texas—had met that same mark, while state health officials in Florida reported a total of 999,319 cases.
Florida will face "no lockdowns, no fines, no school closures," DeSantis said. "No one's losing their job because of a government dictate, nobody's losing their livelihood or their business. That is totally off the table."
When a reporter asked DeSantis if there was a possibility of introducing a statewide mask mandate, DeSantis posed a question of his own about states that have reported COVID-19 outbreaks despite having mask mandates.
"At some point, does the observed experience matter? I'm opposed to mandates, period. I don't think they work," DeSantis said. "People in Florida wear them when you go out—I mean, they don't have to be strung up by a bayonet to do it. Fining people is, I think, totally overboard."
School districts throughout the state will be required to continue offering in-person learning options for students, DeSantis said. He contrasted his office's approach to managing the pandemic with that of Democratic governors who have shifted school districts to virtual learning due to rising infection rates.
"The data and the evidence is overwhelmingly clear: The virtual learning is just not the same as being in person," DeSantis said. "I would say that closing schools due to coronavirus is probably the biggest health blunder in modern American history."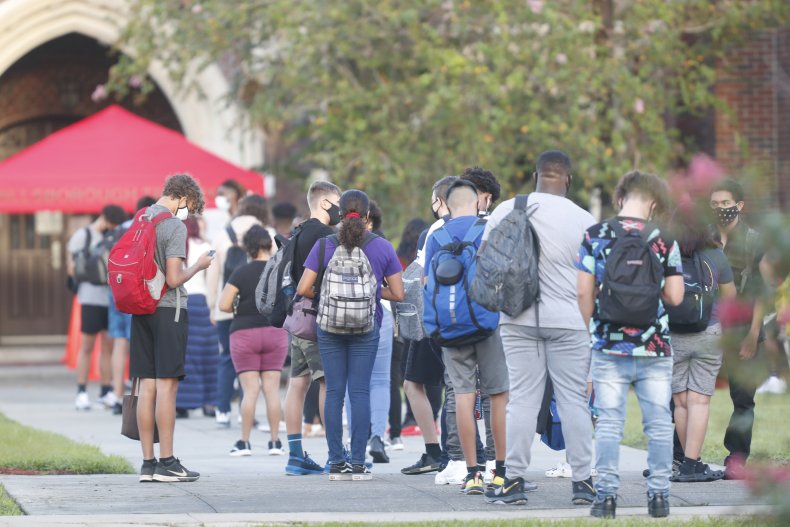 DeSantis' vow to keep schools open for in-person learning stands in contrast with states like New York, which was an early leader in total COVID-19 cases at the start of the pandemic, and California, which was on Monday just behind Texas in terms of total confirmed cases.
In California, most schools are not allowed to open for in-person instruction if they reside in the state's "Tier 1" category, which is its most restrictive. By Monday, November 30, more than 99 percent of the state's population was assigned to California's most restrictive tier due to the virus' spread.
Meanwhile, New York City Mayor Bill De Blasio recently reversed a decision to close the city's schools after beginning the reopening process in September.
DeSantis said health experts have widely recommended that schools remain open for in-person instruction whenever possible due to the difficulties students face with virtual learning. Dr. Anthony Fauci, the director of the National Institute of Allergy and Infectious Diseases and member of President Donald Trump's coronavirus task force, on Sunday advocated for schools to remain open during an appearance on ABC News' This Week.
"Schools will remain open for in-person instruction, and we will continue to offer parents choices for the spring semester," DeSantis said. "Every parent in Florida can take that to the bank."
Newsweek reached out to the Florida Department of Health for comment but did not receive a response in time for publication.