Florida Governor Allows Most Restaurants and Stores to Open Monday at Quarter Capacity
Florida Governor Ron DeSantis announced steps to reopen most of his state for business on Monday during a Wednesday news briefing. Excluded from the guidelines were some Miami-Dade, Broward and Palm Beach counties in southeastern Florida.
"These steps will be deliberate," DeSantis said. "They will not be like turning off a switch. But each step will bring us closer to that light at the end of the tunnel."
Part of the first phase of reopening will allow most areas to open both restaurants and stores at a capacity rate of 25 percent. Restaurants will be able to use outdoor seating areas as long as social distancing is used.
"Outdoor transmission, as far as we've seen, has been more difficult than the indoor climate controlled transmission," DeSantis said. "To me, being outside, if you're six feet away, would not be any more risky than going to Costco or some of the things that Floridians have been doing throughout this whole time."
DeSantis chose to keep cinemas closed for the time being, saying it was "practically difficult" to maintain social distancing protocols. Churches, however, will remain open for services.
Bars, gyms, and personal service providers like hair salons will remain closed until further notice. Schools are required to continue the practice of distance learning. Although elective surgeries can resume at medical facilities, visiting senior living communities is prohibited.
DeSantis said the decision to keep visitors away from nursing homes was "tough."
"You have people there that don't have human contact with their family," DeSantis said, "and this has been going on now for almost two months." DeSantis said he would revisit that decision if there were ways to allow the visitation safely.
"Governor DeSantis prohibited visitors to our state's nursing homes, assisted living facilities and long-term care facilities statewide and directed our State Surgeon General to issue a public health advisory urging all persons over the age of 65—as well as all persons with serious underlying medical conditions—to stay home," read a copy of Florida's reopening plan sent to Newsweek on Thursday.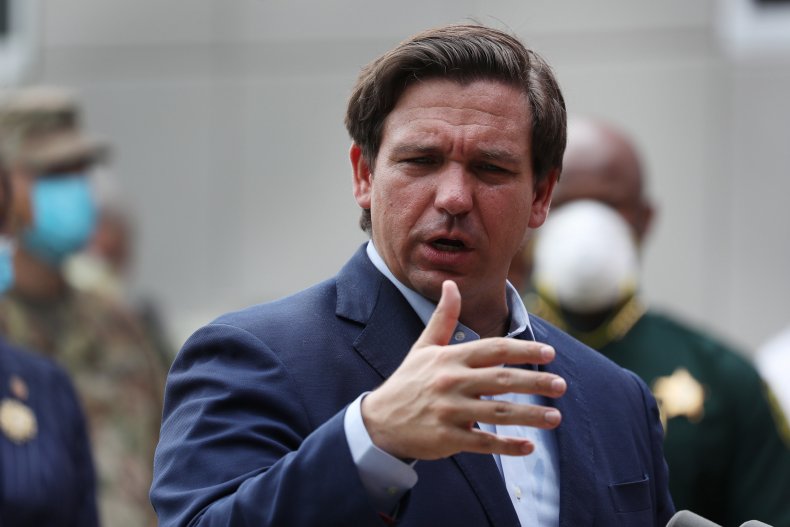 DeSantis said the biggest obstacle to reopening Florida was "fear of the unknown, fear sparked by constant gloom and doom and hysteria that has permeated our culture for the last six weeks."
Florida is one of many states that have announced a phased reopening and the relaxation of coronavirus mitigation guidelines. Texas Governor Greg Abbott said Monday that some businesses in his state can open as soon as Friday. Abbott's first phase includes the opening of movie theaters, but only at 25 percent of normal capacity. Bars, gyms, and hair salons in Texas may not open until the middle of May.
"Now it's time to set a new course, a course that responsibly opens up business in Texas," Abbott said. "Just as we united as one state to slow COVID-19, we must also come together to begin rebuilding the lives and livelihoods of our fellow Texans."
Updated 11:35 p.m. EST 04/30/2020: This story has been updated to include information from Governor DeSantis' office.