Florida Governor Announces He Will Order State Residents to Stay at Home for Next 30 Days Amid Coronavirus Pandemic
Florida Governor Ron DeSantis announced on Wednesday afternoon that he would sign an order telling residents to "stay at home" for the next 30 days in a effort to curb the spread of coronavirus in the state.
DeSantis, a Republican, said that the order would "limit movements and personal interactions outside the home," according to Orlando's ABC affiliate WFTV 9. The governor explained that only essential services will be allowed to continue, similar to orders put in place by other states across the country. The specific details of DeSantis' order have not yet been announced.
Florida, which has more than 6,700 confirmed cases of coronavirus, was the only state as of Wednesday morning with more than 5,000 confirmed cases to not have already issued a "stay at home" or "shelter in place" order. On Tuesday, DeSantis had suggested that such a step was not necessary to curb the spread of the virus.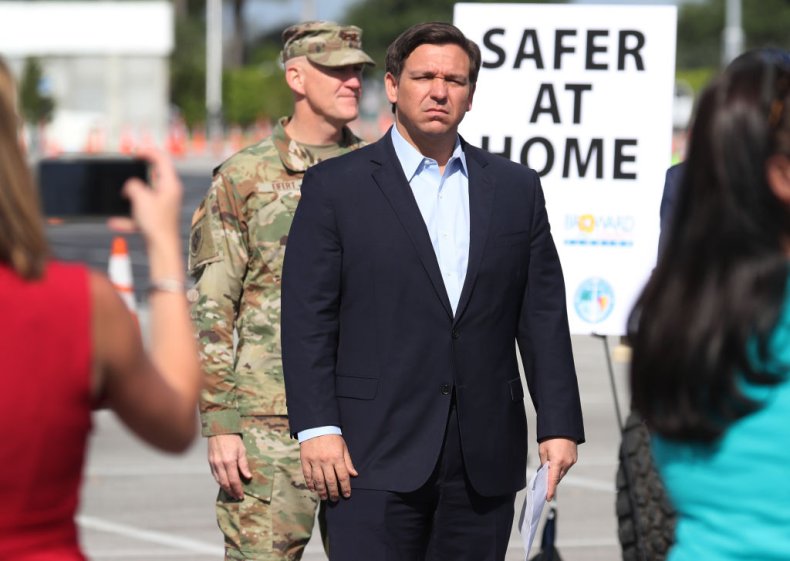 "I'm in contact with [the White House coronavirus task force], and I've said, are you recommending this?" DeSantis told reporters during a Tuesday press conference. "The task force has not recommended that to me. If they do, obviously that would be something that carries a lot of weight with me."
On Monday, DeSantis had issued "safer at home" guidelines for four southeastern Florida counties that have been particularly hard hit by the pandemic. DeSantis had said those guidelines would go extend through mid-April.
Pressure for the Florida governor to lock down his state as many others have done across the country had been building over the past few days. Ali Mokdad, a professor of health metrics sciences at the University of Washington, told The Miami Herald that he'd directly advised Florida leaders to issue a stay at home order. He noted that modeling he'd helped with had projected thousands of deaths in the state due to the virus.
Meanwhile, the U.S. continues to lead the world with the highest number of confirmed cases of coronavirus. As of early Wednesday afternoon, there were more than 190,000 confirmed cases, according to a tracker updated by Johns Hopkins University. Of those, 4,127 have died while 7,141 have already recovered.
The White House said on Tuesday that its modeling suggests that between 100,000 and 240,000 people could die in the next few weeks from coronavirus nationwide, even with stringent social distancing in place. Without the policies, the death toll could surge into the millions.