Florida Governor DeSantis Says He Won't Be Following Georgia in Overriding Local Mask Orders
When it comes to wearing masks, Florida Governor Ron DeSantis plans to keep the decision-making power in the hands of local leaders.
On Wednesday, Georgia Governor Brian Kemp signed an executive order overriding local mandates requiring people to wear masks in public. The news prompted one Florida lawmaker to call for DeSantis to follow suit, but the governor isn't likely to grant his request.
"Governor DeSantis believes in a bottom up decision making process and not from the top down," the governor's press office told Newsweek. "The needs of each community may differ, a cookie cutter approach does not work in a diverse state such as Florida, and he supports all local efforts to defeat this virus."
Florida's seeing one of the largest outbreaks of coronavirus in the country and the rise in cases have made officials pull back on reopening plans. Public health experts have expressed concern about the impact the outbreak in Florida and other states, but one representative doesn't see a problem.
Representative Anthony Sabatini told CNN Florida is "absolutely" doing fine and praised DeSantis' response for being "on point." However, he does want the governor to do at least one more thing: pull the plug on local mask mandates.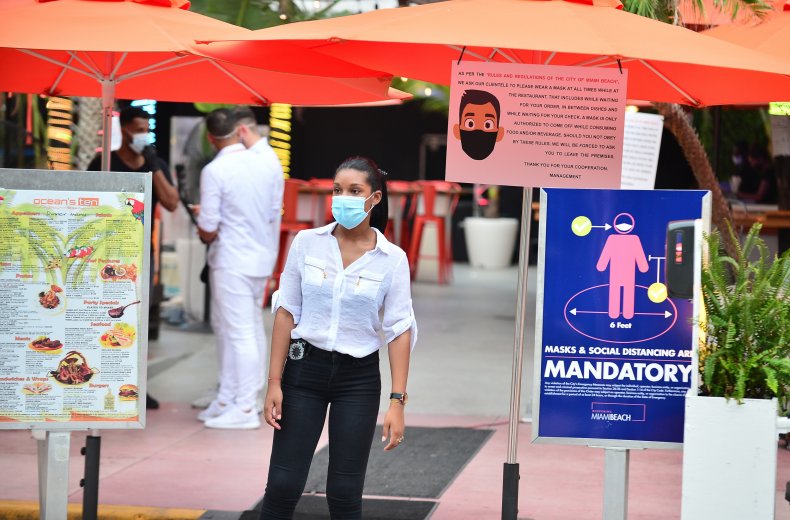 Early Thursday morning, Sabatini shared a report to Twitter about Kemp's executive order and called on DeSantis to follow suit. "Tear down these mandates," he wrote.
Sabatini later posted a copy of a letter he sent to DeSantis in June requesting that he sign an executive order restricting local governments from penalizing Floridians who don't comply with face mask requirements.
In the letter he called face mask requirements "draconian" and wrote that the local government officials issuing them were desperately seeking to "virtual signal."
"Local governments should step aside and let the private sector and the people themselves decide when and where masks are to be worn," Sabatini wrote.
The representative told CNN he believes the mandates are unconstitutional because of a "robust" privacy clause in the state's Constitution. He noted the government has never told a person "what to do with your face" and said officials should encourage people to voluntarily wear masks instead.
While Sabatini is pushing for DeSantis to force local governments to ease up on masks, other Florida officials are asking him to crack down. During a roundtable discussion on Tuesday, Miami Beach Mayor Dan Gelber asked him to issue a statewide mask mandate and tell people it's "urgent" that they wear one, WKMG reported.
Ten Democratic state lawmakers sent DeSantis a letter on July 3 urging him to issue a mask mandate, but DeSantis has resisted implementing such a measure. He's left the decision up to individual localities and said that imposing criminal penalties on it would probably "backfire."