Florida Governor Proposes Law That Could Allow Drivers to Run Over a 'Mob'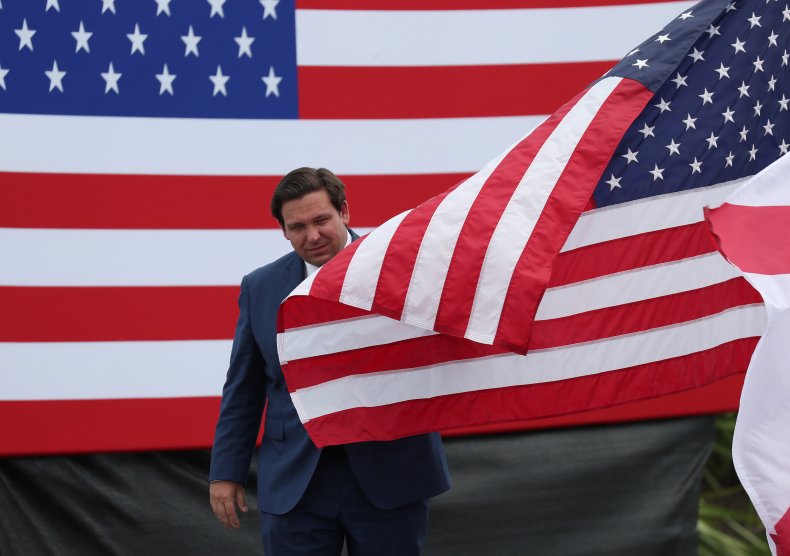 Florida Governor Ron DeSantis on Monday introduced legislation that could remove legal repercussions for those "fleeing" from a "mob" by using their cars to run over protesters at demonstrations.
DeSantis included the provision as part of a new law dubbed the Combatting Violence, Disorder and Looting and Protecting Law Enforcement Act. One part of the law aims to criminalize certain protests occurring on roads, creating a third-degree felony for those who "obstruct traffic during an unpermitted protest, demonstration or violent or disorderly assembly,"
"[The law will] require a felony if you incapacitate any of the roadways," DeSantis said during a press conference. "We see people take over interstates. That is absolutely hazardous. It's not fair to motorists who get caught up in that, so that will be unacceptable."
While protesters blocking traffic would be potentially be committing a felony, the law would could also make it legal to commit what might otherwise be considered vehicular murder or manslaughter.
"Driver is NOT liable for injury or death caused if fleeing for safety from a mob," the proposal states.
The proposal does not include any definition of what constitutes a "mob." Andrew Gillum, the Democratic former mayor of Tallahassee who narrowly lost to DeSantis in the 2018 election, called for legal action to stop the governor while noting that the law could effectively legalize murder in some instances.
"This legislation would have legalized the murder of Heather Heyer in Charlottesville," Gillum tweeted, referring to the 2017 incident that saw a white supremacist drive his car into a crowd of counterprotesters during a Virginia "Unite the Right" rally.
The law would also introduce a third-degree felony for those who participate in a "violent or disorderly assembly" protest while causing property damage or injury to others. Protesters who try to "destroy or topple a monument" could be charged with a second-degree felony. RICO racketeering liability would be added for "anyone who organizes or funds a violent or disorderly assembly."
Striking or throwing an object at a law enforcement officer during a violent or disorderly protest would be subject to a 6-month mandatory minimum jail sentence. In addition, the law would prohibit local governments from attempting to "defund the police," with any area that "slashes the budget" of police being cut off from state funds.
DeSantis said that passing the "bold" new law would be a "focal point" for the Republican-controlled state legislature during the next legislative session. The state's Democratic leadership quickly condemned the proposal, while insisting that it was largely introduced to win political points.
"Most of this stuff is already illegal, he is just Hell bent on silencing any voice of opposition," Florida House Minority Leader Evan Jenne told Politico. "None of this is about policy... It's about buoying President Trump, who has slipped precipitously in the polls. It's dog-whistle base stuff."
Newsweek reached out to the office of DeSantis for comment.