Florida Governor Rick Scott Booed Out of Restaurant by Red Tide Protesters
Protesters angry about the toxic algal blooms that have caused breathing difficulties and killed marine life along Florida's Gulf Coast booed Governor Rick Scott out of a restaurant on Monday.
Demonstrators met Scott outside Mojo's Real Cuban, a restaurant in Venice, where Scott had made a campaign stop, according to the Sarasota Herald-Tribune. They stood outside chanting "hey hey ho ho red tide Rick has got to go." Supporters of Scott staged a counterdemonstration.
The term-limited Republican governor, who is in a race to unseat Democratic Senator Bill Nelson in November, had to enter and exit the restaurant through the back door. He did not take questions from reporters and only stayed for about 10 minutes.
Scott has faced mounting criticism over this year's red tide, a toxic algal bloom that killed more than 2,000 tons of sea life as of last month. The New York Times reported that this year's red tide was the state's longest since 2006.
Critics accuse the governor of supporting policies that have exacerbated the algal blooms, such as repealing mandatory septic tank inspections in 2012 and slashing $700 million from the state's water management districts. The red tide algal blooms can be fueled by fertilizer runoff and leaky septic tanks, HuffPo reported.
Scott defended his record and said that Nelson, who has been in Congress since 2000, should be doing more to protect the environment.
"While red tide is a naturally occurring algae that has been documented along Florida's Gulf Coast since the 1840′s, Gov. Scott is fighting to use all available resources to help impacted communities, including declaring a state of emergency and providing millions of dollars in grant funding to Southwest Florida counties for cleanup and recovery efforts," spokesman Chris Hartline said. Last month, Scott declared a state of emergency and allocated $9 million in assistance for areas affected by the red tide, The Hill reported.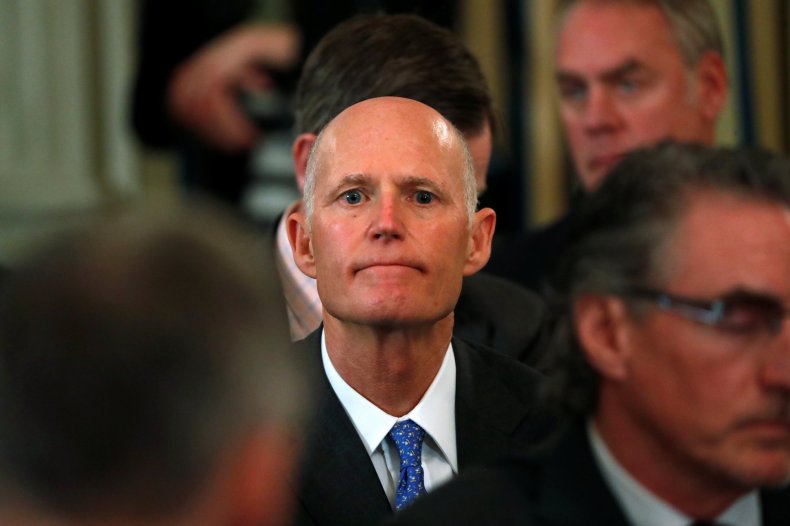 For many, the emergency funding is not enough given Scott's weakening of environmental protections over the years.
The financial toll of the scourge, which has factored significantly into campaigning, has evoked further outrage. Over the summer visitors typically flock to the southwest's pristine beaches, which this year were tainted by the red tide. CNN reported that the algal blooms had cost businesses at least $8 million in lost tourism revenue.
"Once you wipe out the economy and the tourism, Florida's dead," said Sarasota resident John Citara, who arrived at the protest wearing a hazmat suit and gas mask. "If this doesn't show us we need to do things differently and hold people accountable, what will?"