Florida Governor Ron DeSantis Refutes Vaccine Favoritism Charges After Federal Complaint
A federal complaint alleging Florida Governor Ron DeSantis of discriminatory practices in the distribution of COVID-19 vaccination doses is a "manufactured narrative with political motivations," according to his office.
"Leadership matters and because of Governor Ron DeSantis' commitment to ensuring vaccine access to all seniors – regardless of background, income or zip code – millions of seniors in Florida have received the vaccine, and over 61 percent of our state's senior population have been vaccinated, the highest in the nation," DeSantis' office said in a statement released Friday.
The federal complaint claimed DeSantis selectively distributed vaccines to wealthy communities developed by donors to his re-election campaign.
"The vaccine is funded by the federal government and the federal government has strict rules about access to the vaccines and discriminating based on factors like money, politics and race," said Matthew Issman, a former law enforcement officer who filed the complaint with the U.S. Department of Health and Human services on February 18.
According to the Miami Herald, the complaint stated that a three-day vaccination event held last month at the Premier Sports Complex awarded appointments to residents in two of Manatee County's wealthiest zip codes, including Lakewood Ranch.
DeSantis reportedly contacted Rex Jensen, CEO of Lakewood Ranch parent company Schroeder-Manatee Ranch, about the vaccines. Jensen spoke with Manatee County Commission Chairwoman Vanessa Baugh who set up the vaccination site.
According to Bay News9, Baugh chose the two zip codes in Lakewood Ranch that were eligible for the event from the county's standby pool and said she didn't "see an issue" in picking these codes. An email cited by the Bradenton Herald showed Baugh and Jensen were both on the list for the vaccination site. Baugh has since apologized for her actions, but the commission has not taken disciplinary actions.
The Herald also reported texts obtained via public records request revealed conversations among Jensen and Baugh intended to use the clinic to promote DeSantis ahead of his 2022 re-election campaign.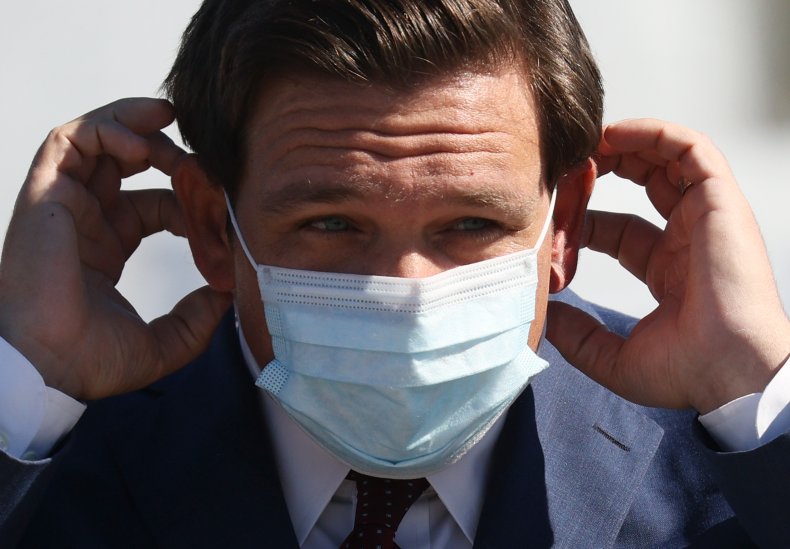 "It wasn't a choice about zip codes. It was a choice about where is a high concentration of seniors where you can have communities provide the ability for them to go on," DeSantis said to reporters last month.
Issman runs his own homeowners' association in Broward County, Florida. He said when he asked about hosting a vaccination site in his community, the Florida Department of Health's local office told him: "You can't have a vaccine site just for your community. You have to make it open to the general public."
"I know politics and I'm not naive enough to think it doesn't happen, but when it comes to people's health, it should be a level playing field," Issman said. "Because you are a wealthy developer and have a wealthy community, you should not move to the front of the line ahead of seniors citizens and our first responders and teachers. That's just wrong on so many levels."
Issman's complaint isn't the first against the Lakewood Ranch vaccination site. Representative Charlie Crist (D-FL) called in a letter for an investigation from the Department of Justice last month.
"It would be unconscionable for political corruption to trump both fairness and the best medical guidance," Crist said in the letter. "These issues of equity and fairness matter deeply to me."
Florida Agriculture Commissioner Nikki Fried also wrote a letter to DeSantis earlier this month calling for a separate investigation into the Lakewood Ranch site and Baugh's suspension.
"I hereby request that you immediately suspend Vanessa Baugh from public office. I expect that, despite her being your noted political ally, you will do so with all due haste in the name of Floridians denied vaccines whose lives hang in the balance," Fried's letter said.
She wrote another letter to the U.S. House Select Committee on the Coronavirus Crisis.
DeSantis spoke on Friday to reporters about the passage of President Joe Biden's American Rescue Plan, saying Floridians were "treated very poorly" by the law. He added that he would not allow Biden to impose COVID-19 safety restrictions on the state: "That ain't happening in Florida...We are not going to let him lock down Florida."
Newsweek has reached out to DeSantis for comment, but did not receive a reply by publication time.
Correction (03-15-21, 5:34 p.m. ET): An earlier version of this story stated that Richard Uihlein was the developer of Lakewood Ranch. However, Uihlein, who did donate to DeSantis' election campaign, has no connection to the location or the Schroeder-Manatee Ranch company. The reference to Uihlein's role with Lakewood Ranch has been removed from the article.